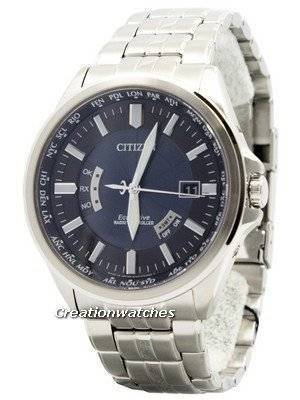 The ideal work-wear watch should be an even blend of style and precision, durable but whoever says it has to be bland is bullshitting. That's some 20 years or older mindset and applies today only to a handful of situations; the current times (more so if you are into outsourcing business) demand multiple timekeeping (and a way to alert the wearer about his different schedules in different time zones) and a lot more things if you are not exactly confined to the cubicle.
Putting my personal preference (or fetish, as some might say) aside, Citizen's masterful combinations of sports functionality and innovative designs created some fantastic timepieces that allow both working hard and playing hard. Office or the beach or even if it's a business trip, they never leave you high and dry. You stay in sync with your destination right from when you land. That's what you call traveling in style.
The Citizen radio-controlled timepieces have largely been acclaimed to be a
frequent flyer's ultimate companion. It doesn't matter if you are travelling business-class or the cockpit, something like the Citizen Promaster Skyhawk or the Attesa always comes helpful. However, for the less tech-savvy, it should only be the Global Radio-Controlled. But if you want the real class, it's the Limited Edition Atomic Perpetual Chronograph. They all are light powered, so no way you'll be stranded in the middle.
The more tech-savvy will find the Citizen Skyhawk a better choice than the rest. This
multi-functional, eco drive watch is equipped with many things that you might need while flying, sailing and also while on the ground.
If you would like to know more about Citizen's 'Hawk series, try this link. It will help you decide if 'Hawk-s fit the picture of ruggedness there in your mind; however, there is a separate range called Nighthawks, about which you will find
here.  But not all of them can be taken to the waters. While 600 ft or less is okay if taken for a swim or a shower, for scuba diving, you got to choose something else. Say, a Seiko Prospex. If you work in and around water, then it's the most perfect work-wear you will ever find. They look fairly hefty, with a serious overtone. The quality, solidity and sensibility of construction are second only to none.