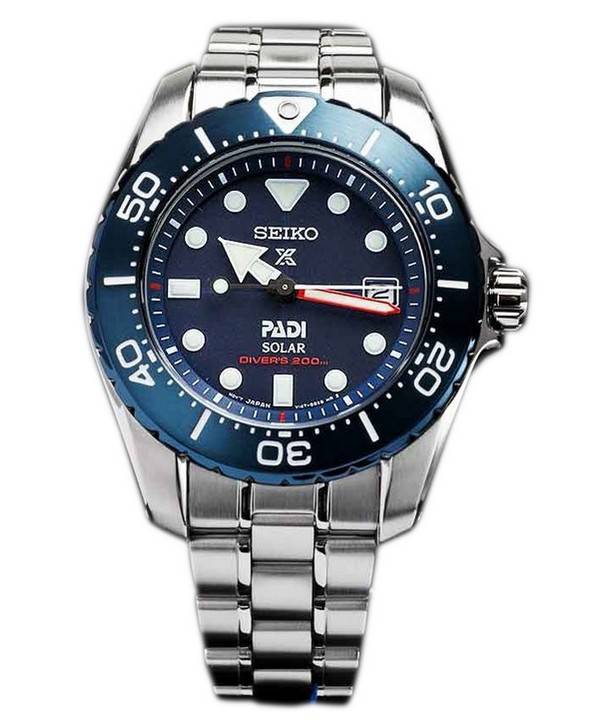 It's not the first time Seiko got inspired by personalities from the sports arena. This time, it is Kojiro Shiraishi who made Seiko think about adding a solar unit to their PADI watch range. Kajiro holds a world record in solo sailing.
Bad news is: We got just one Solar women's PADI left in stock. Good news is: There are other Solar-powered Prospex watches to choose from if you miss out on it! Let's talk a bit about them.
So far, there have been automatics and Kinetic-s among these upper-tier Seiko sports watches with the professional specs directed to cater the professional diving instructors. The Solar turn took the entire Prospex range up by a notch from where the Seiko Prospex PADI Titanium Solar Diver's Women's watch left us hanging.
Before, it's the Seiko Prospex World Time Solar Chronograph that ruled supreme! It still does but not overall. The Seiko Prospex Solar Special Edition Chronographs are throwing a tough competition!
Now, as the names say, these Prospex-s are special editions. Seiko's known quality and stylistic twists kick in full tilt in the Seiko Prospex Solar Special Edition Chronographs. One even got a power reserve indicator built in! Needless saying; they are a lot of watch for the money.
Certainly the Prospex Solar chronographs do not equal the Grand Seiko or the Astron in their fit and finish, but they are not lagging behind too far either. It's not very precise machining but pretty much close to that and is not detectable by someone who is not a professional horologist. At 43.5mm across and appreciatively thick, they make for a commanding presence without going overboard. And just like any high-end Seiko, it comes topped with a sapphire crystal. Everything else they offer you can read in the product descriptions; let's discuss their 'Solar' aspect instead.
Under the dials – just like in the Solar PADI – there's a photovoltaic cell. It receives light and converts it into electricity, which charges the battery powering the movement. The dial utilizes a p
rism-like functionality; it makes the moving of the light on its surface invisible. On a full charge, the movement can function for 10 full months at a stretch. The power-reserve model shows this aspect better. These models also come with a Telemeter which, Wikipedia explains as – The original meanin
g of telemeter, and still one of the main uses of the word, was a device used to measure distances to remote objects, that is, a rangefinder. Originally optical devices used in surveying, they soon found military applications in rangefinding, especially naval gunnery.
The Seiko Prospex Solar Chronographs are excellent options when you are up for a beefy something atop your wrist. Worried if the bracelets are going to fit too loose? Their triple-locking deployant clasps includes diver's extensions that allow a more precise fit over the wetsuits.
Watch(es) mentioned in this post are listed below.  Click to see details and buy them: