Quick snaps
The new Seiko 5 can't be called entry-level anymore! They take a lot from the Seiko SKX007; a very similarly designed dial and case predicts all its intents and purposes. The SKX; however, didn't have drilled lugs and display case back like this one but yes, the recessed crown. It's the new basis for the SKX to be around and be felt; it lives on in the new Seiko 5,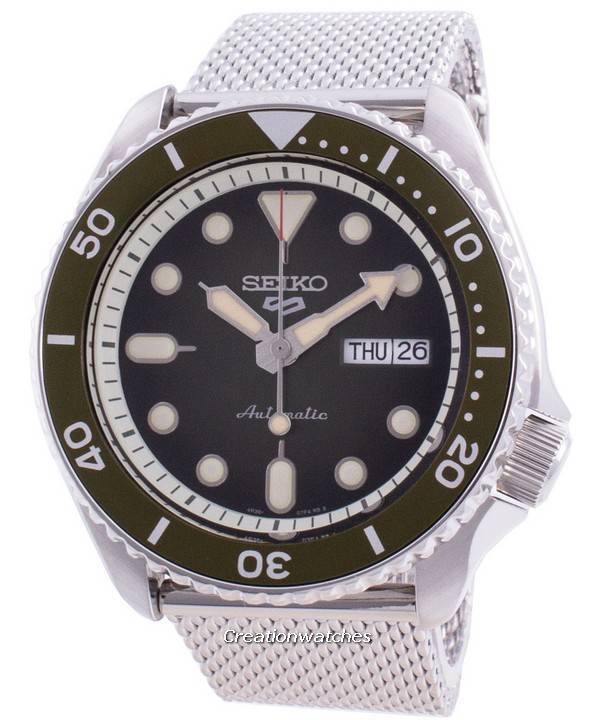 A deeper look
The most certain improvement in the new Seiko 5 line is the use of a further modern Seiko movement. The 4R36 automatic is 'generations apart' from the previous calibers 7S26 and 7S36, adorning the insides of the previous Seiko 5 and SKX watches. The 4R36, unlike 7S26 and -36, offers hacking and hand-winding; holds 40 hours worth of running power, beats at 3Hz.(21,600bph) and all that results in an overall, improved accuracy, both for setting the time and keeping it. And the 4R36 is not entirely a common movement in Seiko's 'entry-levels' gallery. It has been used in some of the Prospex Field watches. The 4R36 is no fancy movement! It is a reliable, accurate-enough movement for an all-bearing modern sports watch.
From standard to stealth
The new Seiko 5 has almost myriad versions to choose from! Just joking; it's near about 30. You'll find more standard models on one hand and more extremes and almost-stealths on the other. There's the gold-tone Specialist model; colorful ones and some in very distinctive format. Seiko took note that the guys just love modding and spared them from the pain – and also some of the joy – of creating a different looking Seiko 5.
The new range thus exhibits a wide range of colors and finishes with matching or contrasting straps and bracelets. Each gets its own personality; not just black or white dials and large, bold indices and wide hands.You may compare them yourselves to the old Seiko 5.before proceeding any further.
New Seiko on the wrist
The feel is more like that of an SKX007. Bit tall but fits and sits flat for a very agreeable lug-to-lug distance. That's even for somewhat smaller wrists but best for 7 inches or above. The crown placement saves you from bites and digging-ins.
The straps come in metal, rubber and silicone; vastly improved than before. They are softer and more pliable with a wider feel for there is no tapering. The NATO straps are also much better in comparison than their previous versions, soft but hardwearing.
Competitors
Seiko Prospex Turtle Save The Ocean Automatic Diver's:Uses a caliber 4R35/36, which are an upgrades from the popular 7S26, offering a user hacking and hand-winding functionality and different from 4R35B and the 4R36A.
Orient Mako II: Any great entry-level dive watch list will have its name! This is the most standard version black dial Mako II but guess what! It comes with a sapphire.
Keep dropping in to leave your replies below. State which one you like the most and why is that?