While modern watch technology has become almost synonymous to smart watches that connect to your smart phone, Seiko brings a different taste altogether by connecting their watches to the GPS satellites orbiting the earth. It is, so far, the most advanced way towards accurate time-telling, though not regarded as smart in the computer-sense and therefore, offers less headaches in terms of operations and shock-sensitivity.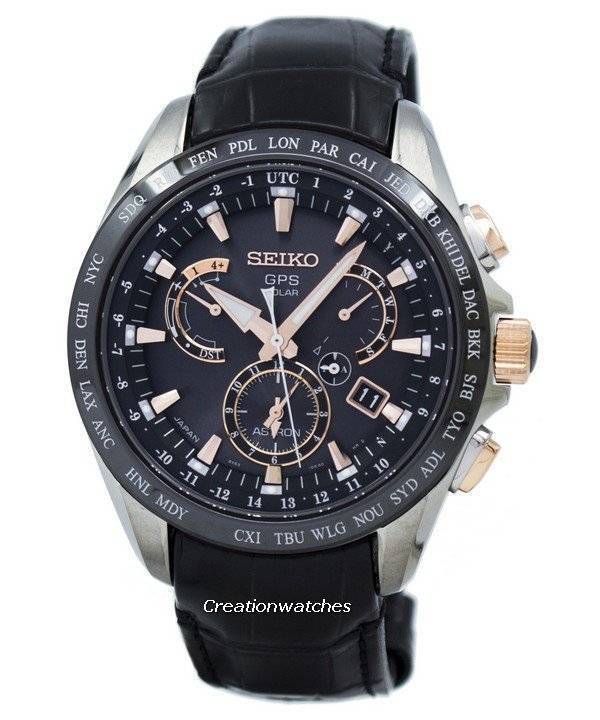 Things are not same with the Seiko Astron GPS Solar Dual Time anymore. Back in 2012, the Astron GPS Solar housed the caliber 7X; followed by the 8X in 2014. The second-generation caliber featured a chronograph while the following year, the targets were the global travelers. This is 2017 and it marks the arrival of the Dual-Time caliber for the Astron and it translated into a worldwide success for the Astron GPS Solar series.
With the Astron GPS Solar Dual-Time, global travel could not be easier. Not just because it displays a second time-zone real time, but also because it adjusts automatically (after every exposure to bright light) to it as well as with DST (if you hit upon the option). All you need to mention is how many hours behind or ahead it is with respect to Universal Time Coordinated (i.e. Greenwich Mean Time updated with leap seconds). Besides, the Titanium built is an insurance against sudden impacts (which is common during traveling) and weight. With stainless steel, it would be heavier by around 5 times.
As the Solar designation depicts, the Seiko Astron GPS Solar Dual Time uses the power of light to recharge its battery; the GPS designation denotes it can connect to the orbiting satellites at the touch of a button, which makes it detect your current time zone automatically. The Dual-Time caliber uses the GPS signal to set time for two different zones and the AM/PM indicator makes sure which half of the day it is at the second-time zone.
The Seiko Astron GPS Solar Dual Time has a unique feature, which is the retrograde display of the days of the week. It works in sync with the 4 o'clock date window and together, they make a perpetual calendar unit, set up to February 28, 2100.
What's surprising is the dial, despite so many things going on over it, gives a clean and clear view of all the information displayed. The hand-polished case showcases Seiko's unique Zaratsu technique, which makes the polish free from any sort of distortion and making the reflections sharp. The bracelet comprises individually designed ergonomic links but more interesting than that is its magnetic resistance of 4,800A/m. This, for sure, is a great benefit to watch lovers and has helped the Seiko Astron Dual-Time earn its own distinct DNA.
Watch(es) mentioned in this post are listed below.  Click to see details and buy them: