As one of the leading watchmakers in the world, Seiko's releases look great and offer amazing functionality. They are environment-protected as usual and endowed with advanced technology behind their functioning. They are designed to make batteries last longer.
The Seiko Neo Classics, chronographs and simple quartz watches got certain names that stand out from others in the same lineup; some are classic and sophisticated, some rugged and purpose-driven.
Affordable luxury watches from Seiko are a delightful opportunity for times when you are all in for the upper-tier dressing up and not exactly in the mood for paying the upper-tier price tag. Seiko's immense ability to create watches to accept any challenge opens up a world of entirely new possibilities. Seiko expresses the nature of time in a very Japanese manner, sincere and warm. It has kept Seiko watches have long been the benchmark for watch-making precision, quality craftsmanship and efficiency for well over a century. The new arrivals at Creationwatches include some of these; especially the Seiko Neo Classic, plain Seiko Quartz watches and Seiko Chronographs. Down in these Seiko ranges, you just feel fine with the appearance and price ratio. They are watches that may not attract a wows by dozens but to them who really know good timepieces shall acknowledge you to have proved worthy of a commendation, if not a standing ovation.
Masterful, top notch new Seiko watches: A short guide to the new Seiko Watches arrivals
The Neo Classic quartz watches – even the chronographs in the line-up – make  an excellent choice for formal occasions and as corporate-wear while the FlightMaster series of chronographs bring out a lot of guts and style. However, a lot less complicated are the ordinary dress/sports chronos and quartz watches with a plain face; they add a touch of sportive spirits and subtle elegance to your everyday clothing.
With that much said, let's have a look at some of the most worthwhile pieces from the new range of Seiko Neo Classics, chronographs and simple quartz watches that appeared at Creation Watches.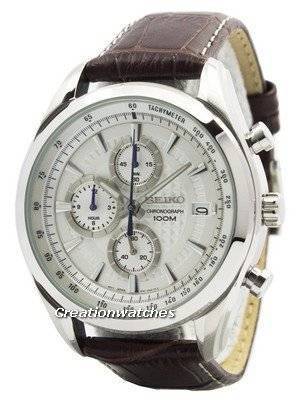 This one is what the Presage would have become, if fitted with a caliber 8T67 quartz movement with a 12-hour time-tracking stopwatch function. The tachymeter scale around the dial opens up the possibilities of tracking speed and ETA, which are essential if you plan to wear it for any occasion involving speed and distance.
For the times you want something dazzling to adorn your wrist yet to cling onto practicality. This one doesn't leave you hanging midway; instead, it makes every provision to make you switch rapidly between leisurely luxury and adrenaline-pumped action.
For those who would love a little extra functionality than a chronograph, the Seiko Chronograph Perpetual Calendar makes an excellent choice. It has a ton of them; while others stop at just a day and a date, this one also shows you the month and whether it's a leap year or not. Everything is denoted through an analog dial with separate scales for every function. Moreover, this one also has an alarm but if you are not using it, you can track a second time zone through the sub-dial.
This simple chronograph is a lot safer choice for them who want something more than just a time-telling piece but without involving complex, multi-step actions. Play or party, this one is going to throw enough oomph around without drawing unnecessary attention.
Seiko's gambit of aviation-friendly watches are a must for today's watch connoisseur. This one has a busy face that's easy-to-read, simple two to three-step functions, a gear-edged bezel – all that makes the FlightMaster Alarm Chronograph irresistible to the lovers of gadgets and useful, extra features. Moreover, it's built like a rock!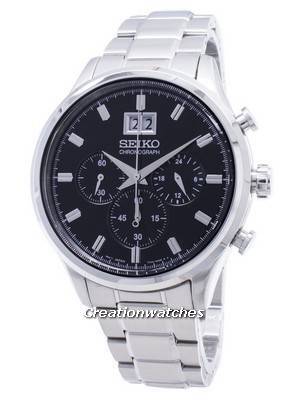 The Modern Gentlemen's watch fits-in well in the current fashion context. Special features like dauphine hands and crescent-moon ends in seconds-hands; textured Guilloches – all speak of a subtle luxury. The reasonably big crowns make adjustments easy while the sapphire and hardlex crystals – many of them slightly domed – adding a vintage touch to clean and classy. Now, it is also true that this lineup is meant for a very small group of individuals, who know perfectly well how to dress well and also with an appreciation for high-grade technical finesse. They represent an astonishing value, with a better-recognized presence. They make objects of prestige that speak of frugality rather than mindless exhibitions of riches. The distinction between style and substance thins out as the forgotten expedient of making a good watch is restored.
Are they equivalent to the Swiss?
No, you certainly can't expect the Rolex 904L standard stainless steel for any of these three lineups. However, the 904L corrosion-resistant super-alloy with extra Chromium, Copper, Nickel and Molybdenum despite its improved shine and resistance to acids falls short in front of 316L; which is tougher and harder, marine-grade steel; suitable for serious field work. It's only downsides are that it has less luster and lower acid resistance compared to the 904L. Whether rugged and sporty or dressy and elegant, 316L is always a better choice if you want to wear your watch every day. It doesn't require anything more than a periodic wipe to keep it looking clean and untarnished and makes functional, stylish and classy looking watches shine to their farthest extent, making your choice a perennial favorite and that's for a good reason other than all that you've already been told.
The Neo Classics are a very uncommon 41mm across; the quartz watches including chronographs go up to 46mm which slim wrists might fear to find a bit too large. They don't wear large and have already become a favorite among the crowd looking for value in whatever they purchase. This is not often the case for large Swiss watches; especially those created for some specific purpose.