February 20, 2012

Manny

0

The Seiko is the premier watch brand that largely produces fashionable and trendy watches. The people of new generation always demands awesome watches that reflect their perfection, there are many watches are available in market, you can also prefer sites for selecting a splendid watch. The site of Seiko Watches is also helpful for choosing an optimal watch. Seiko quartz, Seiko automatic, Seiko chronograph etc. are some of the popular examples of the collection of Seiko watches. We have wonderful Seiko quartz watch that contain strong and durable stainless steel material, after long time hard working designers made this dazzling Seiko quartz chronograph watch.
Both the case and the bracelet of this Chronograph Seiko Watch are made by the material stainless steel. The working of this Seiko chronograph is based on Japanese quartz movement. A quartz watch is simple an electronic watch. This is the chronograph watch having the ability to measure the time is more than one way. The chronograph watches include features like tachymeter, power reserve function, sub-dial, alarm etc.  This watch dial is fully in black color on the dial of this watch sub-dials are situated. On the face of this watch pink gold bezel of this watch enhances the attraction.
The water resistant of this Chronograph Men Watch is up to 100 meters. The case diameter of this watch is approximately 42mm and the case diameter of this watch is 11mm perfect suitable size for this watch. The weight of this watch is 163grams comfortable for men's wrist. This Seiko Mens Chronograph Watch is very nice in any way whether the quality of material, design, features or even price.
Click here for more details:Seiko Chronograph Watches
Some Important Features: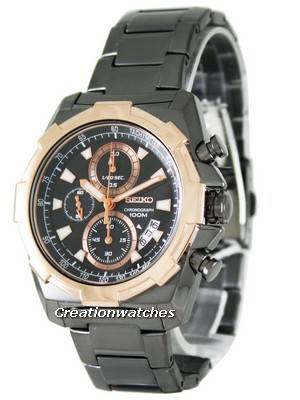 Stainless Steel Case
Stainless Steel Bracelet
Japanese Quartz Movement
Chronograph
Tachymeter
Black Dial
Pink Gold Bezel
Day and Date Display at 4 O'clock Position
Buckle Clasp
100 Meter Water Resistant
Approximate Measurement:
Case Diameter: 42mm
Case Thickness: 11mm
Weight: 163g
This watch is available for US $255.00 with us.
Click here for more details and to purchase it: Chronograph Mens Watches