We, as humans, get bored real fast with the same thing repeating over and over again for long. Watch enthusiasts too, faced the same crisis after stainless steel, plastics and resins turned too commonplace as watch-building materials. The quest for something new tried even sapphire glass as a material for watch case, buttons/pushers, crowns and bracelets and the trend still continues.
A glass watch; however, doesn't always look good. It goes well in a jazz concert, but not in a wedding – that is, if you want to follow the grammar. In an informal to semi-formal dinner; night clubs even! For outdoors and purely formal affairs, you need something far more strong and classy. Titanium ruled the market for some time and still does in certain segments. The carbon fiber aside, precious metals like solid gold and platinum were also used and then came the ceramics. The chief advantage was they cost way cheaper than titanium and carbon-composites and often exceeded the hardness offered by these two.
The biggest plus point with ceramics is they are scratch- and dent-proof. Omega brought out the first one – the Seamaster Cermet – in 1973, using aluminum oxide and tungsten carbide to create the ceramic material. It was made available from 1981, only upon special order with a significantly higher priced. Other noteworthy watches in this category were the 1986 IWC Da Vinci ref. 3755 perpetual calendar chronograph and the 1990 Rado Ceramica, with ceramic case and bracelet.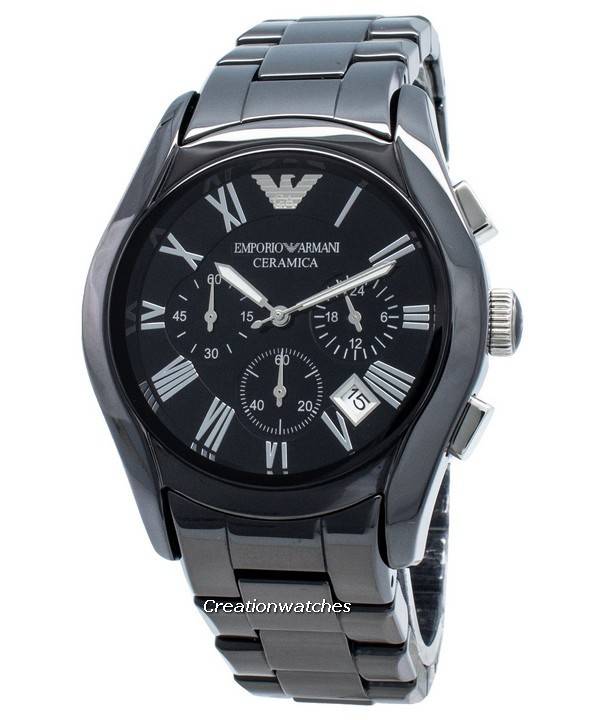 As the popularity of ceramic in watch making went higher, brands like Anne Klein and Emporio Armani also started making ceramic watches for the fashion conscious crowd. Seiko brought out the limited edition Prospex Marinemaster Automatic and showed the world how tough ceramic can be. It's many times resistant to wear and aging than steel and gold and most importantly, doesn't lose its shine or color being impervious to UV rays. It makes a good material for all-black watches; unlike coatings, the colour is intrinsic to the material. It can be lighter than even titanium and aluminum, which means, a ceramic watch will be far more comfortable and light on the wrist, besides being cheaper than a titanium watch.
It's skin-friendly. The hypoallergenic property of ceramics is great for people with sensitivity to metals. Neither shall it corrode in a salty or an acidic atmosphere. If you want to keep a watch for the long haul without it turning into a vintage, a ceramic watch will fit in beautifully.
The same ceramic, if not by a renowned manufacturer, will be brittle and may shatter at the slightest impact. It will also lack a rich color and shine and also its unique appeal that makes it visually interesting.