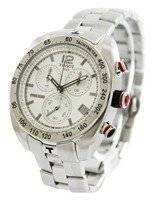 The question is as common as it can get, so if you are disgusted for coming across it one more time, blame those who keep hammering on it given the slightest opportunity. It's no doubt for the newly revived interest on Tissot, but the interested parties still seem doubtful on taking the steps.
Part of the blame goes to the lot whose periodic vitriol you will come across at many forums. The attractively abusive outlook of insecure little people generates a disproportionate number of acolytes who join the crusade for raising stature through certain brand names. Now, I sure do hate bursting anyone's bubbles (not all the times, though) and there's absolutely no reason why I should deter you racing along the super-expensive watch-highway; just do not compare Tissot with them in the upper-tier, absolute luxury. Tissot rules the zone between respectable and entry-level luxury; Tissot got nothing to do with hand-tooling or pressed brass-bushings. But Tissot uses modern manufacturing equipment, top-class material and craftsmanship and keeps tight quality-control measures for the products and are miles ahead of the many lousy, stamped-rotor-ed, complex-looking watches with olde-worlde names.
Now, Tissot is a very important player in the Swatch group – in fact, in the entire, global horological evolution following the digital quartz epidemic. So when I found only a handful in what I finally got fond of, you may guess the heartbreak.
But on second thoughts, good things don't come in clusters.
What I meant is the PRS series. Instead of risking on an overpriced, oversized, monstrous wrist-wear, I prefer going for Tissot's exceptional quality at this price range. Three things I admire: A sophisticated engine (G10.211), a detailed design and an all-reliable timekeeping, and the prestige that comes from the 150+ year's heritage.
Maybe the real hero of the Swiss watch industry is the mechanical complication but their quartz counterparts are no less; when all I want is jump and beat around, I'll always prefer quartz instead of a complex mechanical. The Tissot PRS 330 is built exactly for that; its way more precise, robust, sporty, waterproof and inexpensive than a mechanical chronograph. However, all that doesn't improve things much; I'm still sitting on the fence, trying to figure out if it's the black I should go for or the white.
IMHO, red stands out better with white (it gets eye-catching-ly bold) while with black it brings a more matured look. The tachymeter engraved on the bezel gives the (white) watch a big-ish look.  And the brushed finish is relief to me; I don't like polished steel getting scratched. But that also doesn't get my condition any better.
On final note, I don't think I shall be able to bang a $5000 Swiss watch around – not even if you are paying for it. But a Tissot – well – they get better with the bangings.
Watch companies know one thing for sure: A serious watch wearer's spirit never changes; it's only the outlook that changes. And they are ardent to keep the fashion of wearing a watch (the right stuff for right purposes) going. That's why there are watches that go beyond just plain faces or just expensive materials.
One particular brand I recall on this ground is Hamilton. Those who are approaching (or crossed) the 40-year barrier and afraid of wearing hi-tech watches due to their vibrant colors, sizes and complexity shall find more sense in the aviation watches from the Hamilton Khaki (Khaki is a Hindi word for yellowish brown; the color of earth, associated with uniforms, especially military uniforms) line. The collection itself is Hamilton's tribute to the U.S. military, the other three categories being Navy, Action and Field.
The Diver-s aside, the pilot watches are the in-thing right now and while there are people who just buy one for its looks, there are many among us into speedy stuffs and other masculine archetypes who shall truly admire these offerings. However, one evening is not enough to cover all; this time, we will confine ourselves to the Hamilton Khaki X-Patrol Auto Chrono. If you ask why, it's just because I had the good fortune to handle the one (courtesy: a RICH friend of mine; his other one is a Rolex Daytona, which now he considers too large for his age) he went for all-time wearing.
Before I start praising the X-Patrol AC, here's a little bit on what a pilot's watch is. They are not just about oversized winding crowns, or propeller-shaped hands and riveted leather straps; they are about features like pressure-secured crystals, protection from magnetism and functions like world time and chronograph. Back-deck or flight-deck, you'll fly blind without these. But with one of the X-Patrol AC on, you've earned your wings to take things in a new, different direction. Here you will find some details on the movement that makes the X-Patrol tick.
The X-Patrol Auto Chrono is rooted firmly into the aviation heritage and the two internal bezels (one fixed; one rotating) tell you so right at the first look. This is useful to us all into machines and motoring; there's no need to carry around a pocket calculator or practice math back home. It allows for easy conversions (nautical/statute miles to kilometers, feet to meters, gallons to liters, pounds to kilograms and vice versa) and is a burning example that electronic complexities are not the only way to go.
I found the propeller-cut case-back a sheer delight and better than a plain and simple, see-through sapphire. This is a 'personal pleasure' thing and not meant to be flaunted around.
Now, you'll need a keen eye for what comes next. This is the delta-wing (wings that make an airplane appear like an isosceles triangle) shape of the left crown and pushers and the jet-exhaust appearance of the right crown. Now, no one is telling you can't wear one if you miss out any of these aspects; it's just I'm letting you know all where I marked the similarities. If your opinion is a different one, I'd love to hear.