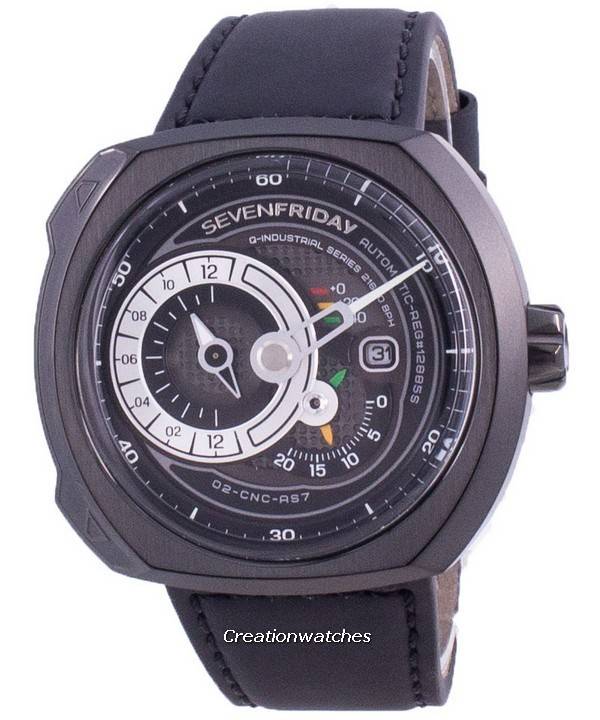 "Eh…what?"
Yeah! That's correct. Both mean locomotive sounds; what they make while moving. Choo-Choo just sounds bit sweeter for the Q2/03 watch, inspired by the power and beauty of locomotives dating back to over a century.
On to the story
The industrial revolution found steam can be used for many things other than cleaning or bathing purposes. The invention of steam locomotives hurled transportation ahead; to another level never imagined to be witnessed before. The copper-toned Q2/03 bears both shapes and shades from a few common things you will find in those locomotive cockpits. The cohabitation of raw mechanical power with the plush luxury of rich, dark leather and hardwoods as witnessed in the royal carriages, sparked the inspiration for the Seven Friday Q2/03, as opposed to the high-tech visuals of the Q3/05.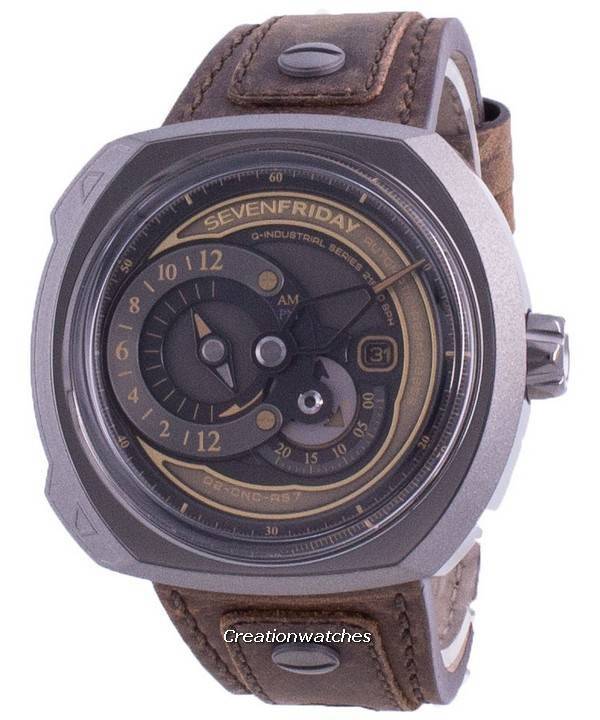 A quick glimpse of twists and turns
Grey and copper beautifully create a distinction between the industrial and the luxurious influences. The special, hardened, anti-reflective , domed mineral glass and the closed case-back with a decent amount of water resistance (30 meters).

The SevenFriday Choo Choo has a multi-layered design comprising a decentralized disc showing 12-hours, bottom plates, a metallic grey Am/Pm indicator, a polished black hour hand and a minutes-disc with metallic tracks and numbers. The seconds-disc and the sandblasted metallic calendar window are at 3'o and at 4'o clock (roughly). The entire Miyota Caliber 8219 is re-calibrated, regulated and freshly oiled prior to the final assembly.

It comes with an AM/PM indicator.
The moving minutes-hand and the hour timer recall the manometers or pressure gauges in steam engines from a century back.
The natural leather strap is wax-treated with a worn, seasoned and toughened feel. The dark leather strap has also been beautifully decorated with vintage-like stitching and accents. Those further emphasize its old-industrial
Deep brown tones with copper and bronze accents follow the original setting of the railways and the pumping pistons of the heavy machinery.
Time detection
Now, to the million dollar question – How this rustic, industrial-inspired timepiece reviving our nostalgia about a long lost era in transportation does it job? In plain words, how do you read time with it? That and the Engine!
They read almost the same. The Choo-Choo houses a 3Hz, Miyota Caliber 8219 with 40+ hours of power reserve. It has a long, centrally-fixed hand reading the passing minutes while the circle with a 12-to-12 scale denotes hours. The brighter side of the two-headed hand denotes day-hours and the darker side, the night.
The Engine runs a slightly modified version of the Miyota 2819 to fit the aesthetic, bringing chronograph function and a date display for the first time for the brand.
We've mentioned here two the SevenFriday Q Series watches. Click on the links to see and buy them.