Talking about the classic-styled Orients inevitably and invariably takes you to the excellent STAR, followed by the Monarch and then Bambino in all its varieties; some bend towards the Galant and only few get to see the Symphony.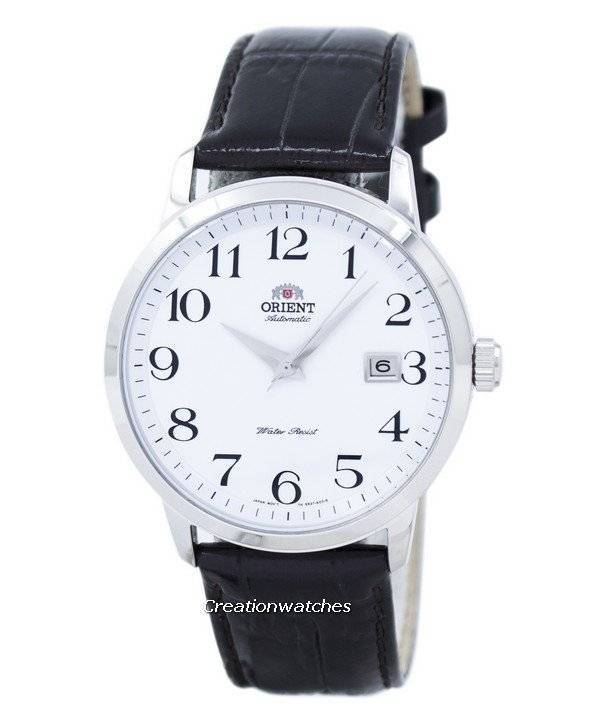 The Symphony houses the same Caliber 48743 in-house, automatic movement. This automatic movement also goes into the Bambino. It is larger, has a more classical aura to it and one of the bests in the affordable, dress-watch segment. Even the Bambino comes with a higher price tag than this! An excellent affordability is thus proved.
The Symphony is about everything in moderation. It's a good classical styling that refrains from being great; it's not an instant show-catcher like the Bambino. Especially, the second generation models! It's unique due to its build and material; it clearly shows the Symphony doesn't want merits for dazzlingly good looks. It co-exists with Bambino, without any effort to surpass it.
Still, it's better said the Symphony is very traditional, not venturing into the excitement territory. A very simple configuration comprising the most common elements in the dial design; all the rudimentary, classical basics for aesthetics that Orient went for in the past. It looks pleasant, not handsome. Nothing on the dial is much discreet or minimal; this one cleverly stalls at the borders of appearing crowded.
Now, the Symphony lacks the Bambino's stand-out, domed crystal. The Bambino's bent at the edges style is a big part of what makes that watch special. The killer curve is not a part of the Symphony. The only point that stands-out in the Symphony is its ultra-affordability despite no compromise on materials and finishes. A visual piece of Vanilla that's safe everywhere and is easy to tell time on.
But then again, the Symphony has something that the Bambino doesn't. It's an exhibition case-back and Orient could decorate the movement more than the lightly engraved brand and model information they have put there. It's a missed opportunity for Orient to make a good piece better. The all-metal Caliber 48473 is tough and reliable, with +18 seconds fluctuation a day (max.). It's more consistent than being accurate. However, its 22mm lugs make swapping straps and bracelets easy enough.
The overall built quality of the Symphony feels the same as the Bambino's i.e. it's well built. The turn of the rotor is firm and precise; its hands are in properly alignment with the markings and its mineral crystal is perfectly flat, raised half-a-millimeter above the bezel.
An appreciation towards Orient as a manufacturer starts building up from looking at some of their entry-level automatics; the Symphony is one of them. Structurally sound, technically superior – the Symphony is essentially the same engine in a more plan-looking body.
Watch (es) mentioned in this post are listed below.  Click to see details and buy them: