September 8, 2010

Watch Gonzo

0
Citizen introduces another eco-drives diver watch – BJ2040-04E. The BJ2040-04E is eco-drives which mean they are powered by light. This Citizen Eco Drive has a features of low-charge warning system so you can be sure that the watch will be operational for the dive. Because it also has a uni-directional bezel, so measurement of elapsed time underwater can be easily taken. Setting up and using the functions of the watch is also quite easy.
The Citizen Promaster Aqualand Chronograph BJ2040-04E watch uses the environmentally-friendly Eco-Drive technology. The energy required to power the watch's special diving functions is not taken from batteries. It is taken from sunlight or any other artificial light. The battery's current power level is continually informed to the diver as well as whether enough energy is on hand to dive safely or not. Citizen Eco-Drive Technology converts light into pure energy. No more battery change. This Citizen Mens watch is really a great watch.
Some Specifications of BJ2040-04E are:  Eco-Drive, Chronograph depth sensor, stainless steel case, special expansion bracelet for divers, water resistant to 200 m, two-way rotating bezel, screw-down locking crown,  Date Specifications: Water sensor depth meter date stop watch 1 sec., max.50 min. Stainless Steel Case Water Resistant – 200m Screw-down locking crown rotating bezel special expansion bracelet for divers.
Click here for more details: Citizen Diver Watch
Some Important Features: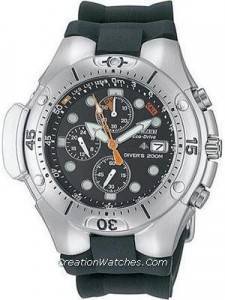 Professional Diver's Watch
Eco Drive Technology Powered By Any Light Source
Never Requires A Battery
Luminous Hands & Markers
Stainless Steel Case
200m Water Resist
Screw Down Crown
Hardlex Crystal
Rotatable Bezel
Citizen Diver Strap
Stopwatch 1/20 Second Max 50 Minute
Chronograph Depth Sensor
Depth Display To 50m
Low Charge Indicator
60 Day Power Reserve
Rapid Ascent Warning
Size of Case: 48mm Width
This watch is available for US $225.00 with us
Click here for more details and to purchase it:  Aqualand Watch