Sometimes we have a look at our best sellers list and pick out a model for a more detailed review. It is always a curiosity as to why some watches are perennial best-sellers, but with some there is a clear reason why on immediate inspection. Take the Citizen Eco-Drive Chronograph FB1112-13D FB1112 Women's Watch, a beautiful model from one of the most prolific watchmakers in the world; it is at once classy and stylish, immediately functional and attractive, and absolutely timeless in its use of classic design touches to finish it off.
Let's begin with the case, a pretty rose-gold plated design that is perfectly offset by the gorgeous face, itself resplendent in a mother of pearl finish. This truly beautiful combination makes for a very pretty yet also delicate design that is effortless in its impression, and one that will endure as it is not dedicated to one particular era. The chronograph design features 24 hour time and date display sections, and is neatly designed with gold numbering at the four quarters and red detailing for added effect. It is an effective design that looks good from any angle.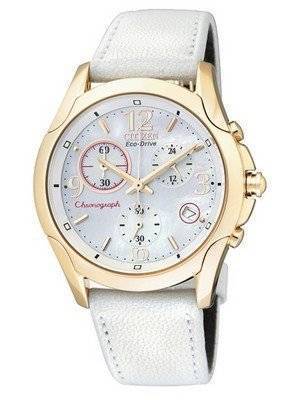 As a dress watch the Citizen Eco-Drive Chronograph FB1112-13D Women's Watch makes a perfect choice, yet it would not look out of place worn for regular daily use. It is a practical design as well as a beautiful one, and it makes for an excellent gift as well. Powered by the innovative and highly regarded Citizen Eco-drive movement – it powers the battery by the light of the sun and other sources – this is a ladies watch of the highest order, and it is no surprise that it tops our selling lists for watches for women almost every time.
The watch is cleverly designed to incorporate both an overcharge prevention system and an insufficient charge warning, so that you can ensure it gets enough exposure in the unlikely event you have not allowed it into the light. The slim design and curved sapphire glass, plus the soft and beautiful white calf-skin strap, make it a joy to wear, and we can see why women everywhere fall for its inherent good looks and overall charm. It is also a bargain: find a similarly beautiful, accurate and innovative watch for just $175 and we will be very surprised. This really is a winner on all counts, and deserves its place on the best-seller lists.