We all know Emporio Armani has a high-end luxury product line backed by Giorgio Armani himself, so let's not go blah-blah-blah. The Armani watches have all been to the prestigious, Milan fashion week over the years –again, that's old news –  something tells it's the wrong person assigned for this job.
Being more of a grease monkey than the fine-living Gonzo (please don't sense any jealousy or in that case, zealotry here), getting into Emporio Armani watches seems a Herculean task. Mr. Fine-Living  Gonzo smirked and cracked bits and pieces of Swiftian satire to wish me good luck on the job, so you kind of estimate my hold on the subject. Still, every care has been taken to present concisely and acutely all the info boned up from the I'Net.
Of classic proportions and off-beat shapes, you need to know how to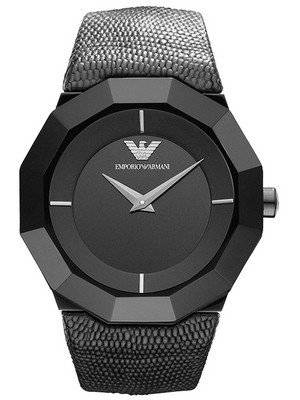 match them to everyday wear and not buy something to be put aside exclusively for formal events or vice versa. As a consumer, you need to differentiate between each collection and varieties of elegance. Only then your preference will match and shall.hold for long.
Emporio Armani watches deal in refined colours, clear-cut lines and clean, classic styling. That might seem bit overwhelming, but worry not.
Next, there are separate men's and women's ranges, specifically designed with emphasis on the male and female factors. The design characteristics set them apart from other Armani collections comprising both men's and women's watches. This is where you must begin if you are going for a well-known and decent watch brand for the first time. This shall weed out all the guesswork. As you will learn to differentiate, venture into the mixed ranges like the Ceramica.
As evident from the name, the Ceramica line of watches utilise ceramic as materials to produce an unique and lightweight, comfortable feel. Infusing pigments into the ceramic, Armani created some spectacular hues. Whether you want pure white or a titanium lookalike, the high-polish finish of the ceramic materials make them appear equally good. Alternatively, there are subdued, matte textures and its quartz movement is a no-frill, reliable piece of electronics.
All right, I digress….okay, back to the gender-specific watches. Among men's, there's the Meccanico (inspired by Art-Deco designs) and the slim Stylesport (athletic-themed, colorful watches with rubberised bands). For women, there are the Fashion  and the Super Slim.
The rest of the mixed are the New Retro Collection (simple, elegant styles), the Classic
(traditional styles in brown, black, and titanium) and Sportivo (round 'n heavy, for an active lifestyle).
For an everyday wear, pick the Sportivo, the Fashion, the Ceramica or the Classic, some of them even doubling up as a casual wear. If you want an active sportswear, there's nothing better than the Stylesport; also suits many outdoor events and adventures.
For strictly casual events, there are a good number from the   Classic and the Ceramica lines; women, please choose from Fashion.
Formal events ask for the Men's Meccanico line and women's Fashion and Super Slim. Evn for formal engagements. If nothing seems good, look into the New Retro collection.
Watch(es) mentioned in this post are listed below.  Click to see details and buy them
https://www.creationwatches.com/products/emporio-armani-watches-200/