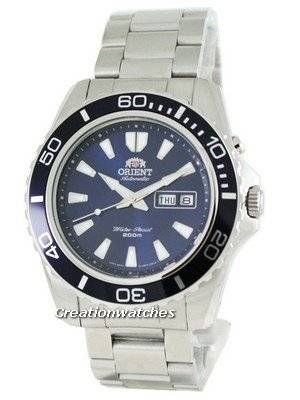 The Orient Mako makes your wrist look fabulous! Today, a watch is not just a personal time keeper; it is also a fashion statement. What brand and type of watch you wear says a lot about who you are and this holds true especially for men.
Women have a dozen accessories to complement their appearance (necklaces, rings, ear rings, etc.), men on the other hand usually have to make do with a watch, a pen, cufflinks and stuff like that. The watch they select therefore, should not only be technologically advanced (have several features apart from displaying the time), it should also look classy and rich. Both these traits are very important for men. The Orient Watch does just that!
The Orient Mako Classic "Pepsi" watch outperformed several more expensive watches precisely because it had the technology and the looks going for it. There's any number of expensive or technologically superior watches out there but few have the looks of the Orient Mako Class "Pepsi".
If you like the idea of being unique (not having the same watch as every other guy on the street), then the Orient Mako Classic "Pepsi" would be the ideal choice and with a price tag that is under $200 it is easy on your wallet as well.
The Orient Mako watch is all quality; quality you can see and touch. For those who might be fascinated with technology, the automatic movement in the Orient Mako watches is very accurate. The watch is very easy to start up and wind thanks to its quarter-circle rotor disc. Orient uses in-house engineered movement – not borrowed movements like some Swiss brands or cheap imported movements from China.
If you are looking for a unique watch with excellent finish that is accurate and technologically advanced, then look no further than the Orient Watches. It is a watch for every occasion and one that will make you feel proud to wear.
Take the Orient Mako Classic "Pepsi" watch for example; it has a gorgeous blue metallic dial that reflects a two tone blue-grey color depending on how the light hits it. Aviator style numerals have nice silver linings on them. The hour and minute hands look like miniature sword keeping track of your time. Day and date display is white with silver borders.
The numerals and the hour and minute hands are adequately covered with fluorescence so the watch continues to glow for several hours in the dark. You will have no problem knowing the time.
The bezel of the Orient Mako Classic "Pepsi" watch is unidirectional and has 60 clicks and aligns properly at 12 o'clock and every other minute marker on the watch. Orient has provided the watch with a convenient pusher (with a screw down lock) located at the top of the crown and is meant for quick day change. The lock is to prevent the user from accidentally changing the day. In short, the Orient Mako watch is everything you ever wanted in a watch and at a price that will make you smile.