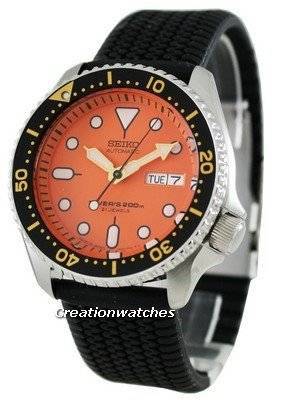 There are people who buy watches regularly and there are those that buy just three or four watches over their entire lifespan. The latter group of people, tend to be more careful with their purchase which is why perhaps, during a recent survey on equipment buying patterns by professional divers, a majority of those surveyed said they bought a Seiko diver's watch because it represented value for money.
Diver Seiko watch is popular not only amongst divers, it is also popular amongst socialites who love it's chunky, featured filled looks. Besides, Seiko diver's watches keeps time accurately, is comfortable to wear, very tasteful and enormously heavy-duty.
There are three various types of Seiko Diver's Watches; Digital, Classic and Computerized. The digital version is relatively cheap, featured filled and water resistant up to 200 meters.
The Classic Seiko Diver's Watch is usually powered through a quartz analog and is priced between USD 200 to 500. The Classic Seiko Diver's Watch is a rave with professional, non-professional as well as ordinary folks because it combines the classic looks with features found on a diver's watch. So if you love classic designs, this one is definitely for you.
The Bezel on the Classic Seiko Diver's Watch is used to keep track of the amount of time you spend underwater. It is very precise, non-reflective and therefore clearly visible underwater (even in murky waters). The Classic Seiko Diver's Watch also has illuminated hands that are particularly vivid and visible in dark or hazy water.
Many professional deep sea scuba divers, who use a dive computer, also wear the Classic Seiko Diver's Watch as a backup.
The Seiko Computer Diver's watch is relatively new addition and as the name suggests, it can perform various dive related calculations. This is a premier diver's watch and is aimed at the professional deep sea scuba divers.
The Classic Seiko Diver's Watch is also popular amongst cave divers and other adventure sports enthusiasts who need a watch that is rugged and can withstand the occasional water deluge (ordinary water proof watches will not be waterproof if held under a waterfall or used while canoeing the rapids).
The Classic Seiko Diver's Watch also has the additional advantage that it looks ultra-cool even when worn at a party. Many people pick up this Seiko Mens Watches because they simply love its looks and of course, the bezel can also be used to time various events.
Many who have owned Seiko Watch over the years have been impressed by the robust performance and high quality of these instruments. In fact, having owned a Seiko watch once, they are loath to buy any other brand. For them, Seiko watches represent the ultimate in quality, design, functionality and accuracy.