A beautiful, well-made watch; not too flashy, neither too-much bling
It is obvious that something 52 mm across and standing 28 mm on your wrist will be immediately noticed; plus, you got to bear with 500 grams of weight! That is a very nice point to consider about this otherwise no-frills watch; there's something different for all of us to like about it. The unidirectional bezel works as a timer and will be liked by most; the GMT feature; however, will be liked by all.
These watches are sturdy and very nice to look at
All those considering themselves to be just very basic men and women – slightly on the active side of life, with swimming and other water-related activities forming a considerable part of it –  the Hydromax GMT goes very well with your idea of that perfect watch.
Look down into the very deep dial, appreciate the craftsmanship
You'll like the Invicta Hydromax not just because it is big and heavy; it also looks nice from the top. Compared to other divers, it is huge and the domed crystal rising above the bezel is adding to it. The crystal is pretty tough; don't worry about it banging against the wall. It makes the watch appear thicker and wider. It becomes a nice, big watch – far bigger than the Grand Diver automatic.
Big, manly, tough and badass
These watches are; however, not for everyone! U must have the wrist and arms for them. They are beyond oversized, so nothing less than a 7 and a-half wrist will do for a man. For a woman – well, everything fits. Those who think Grand Divers are oversized must stay away from the Hydromax GMT. Otherwise, you'll find these low cost Invicta watches worthy of the 'Swiss-made' tag.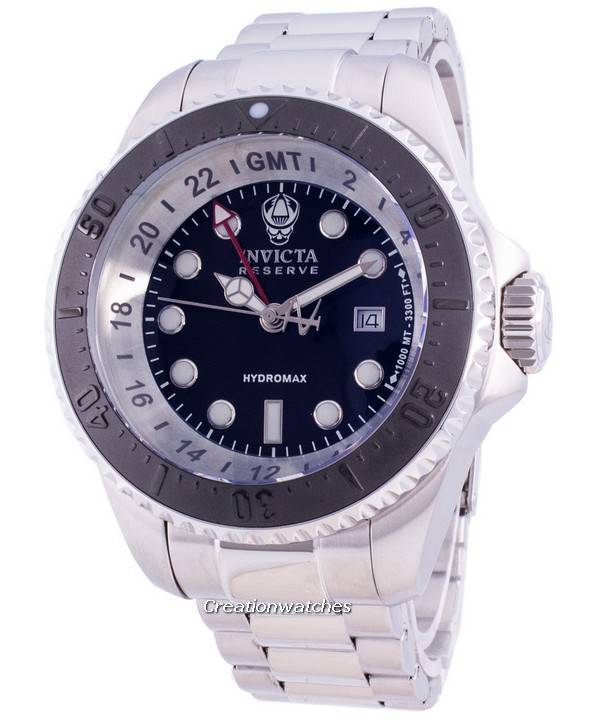 Impressive, but not for everyday wearing
A gorgeous appearance for the crystal, towering over the watch; a comfortable and incredibly easy to read face – all point toward its perfection with jeans; casuals or bit dressy clothes. It's certainly not an office/business-wear; so you won't feel the comfort on your wrist everyday of the week. Or you may, while the world lockdown is continuing. Else, you will wear these color combinations, feel the quality and appreciate wearing a fine piece of machinery only during weekends and vacations.
Excellent in its design, workmanship and materials
Probability says there's always room for improvement; smaller or bigger. It does exist; sometimes visible, sometimes not. But a big mix of different emotions usually clouds the view. The Hydromax GMT watches bring them aplenty, so there's no going to escape the overall appeal of the Hydromax! It looks way more premium than expected and that could be one of its X-factors.
Links to the above watches are given below. Click to have a look and buy.