If you have been diving with Seiko diving watches, it's probably because you were impressed by its quality and robust performance.
Seiko diving watches were developed in the 1960's. This was also a time when watch manufacturers in Japan including Seiko were in fierce competition with their rivals in Switzerland. As divers went deeper, there was a need for diving watches that could not only withstand the enormous water pressure, but also function accurately. In fact, the diver's live often depended on the accuracy of his or her diving watch.
Watch manufacturers in Japan got a big boost during the Tokyo Olympics which took place in 1964. Seiko used the event to unveil its first diving watch – a fully automatic watch that could withstand water pressures up to a depth of 150 meters.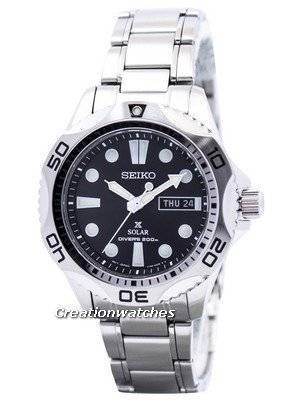 The engineers and craftsmen at Seiko were particularly fascinated by diving watches because the corrosive and highly hostile environment that surrounds the diver acted as a challenge to the watch makers. It not only became a fierce competition with the Swiss watch manufacturers, but also a competition with nature itself.
In those early days, nature won more times than the engineers could count. After all, it only took the tinniest of leakages to destroy the watch. However, every time nature one a round, it gave up a little secret and the next prototype diving watch was a notch better until finally, Seiko perfected and retailed its first 150 M diving watch during the Tokyo Olympics.
Once the engineers and craftsmen at the Seiko lab understood and perfected the basics of the diving watch, there was no looking back. The next diving watch (model 6215-010), was certified for 300 meters. It had a large, highly luminous dial and hands. It was like its predecessor, fully automatic and very accurate.
Like their Swiss counterparts, Seiko watch manufacturers too went through their ups and downs. The 300 meter diving watch in particular, while being reasonably shock proof above water, was not shock proof underwater especially at depths of 300 meters. There were also complaints about the watch severely malfunctioning when the diver ascended.
Problems such as these resulted in the design team going back to the drawing board and redesigning the Seiko diving watch. In fact, the Seiko team spent 7 years perfecting the next watch. They wanted it to not only be perfect, but to also out-perform all diving watches that were commercially available in the early 70's.
The next diving watch that Seiko watches released was 6159-022 model and was marketed as a professional diving watch.
A water proof case built from solid titanium, ribbed rubber straps, anti-magnetic, fully shock proof, highly luminous dial and hands and very accurate time keeping were some of the features in the new divers watch.
This time Seiko requested the assistance of deep sea divers in testing and certifying the quality and accuracy of the watch. Divers from all over the world participated.
Seiko's first professional 600 M diving watch was a total success. Seiko had at last mastered the science of making diving watches that performed flawlessly.
From then on, Seiko kept adding features and perfecting the dive watch and in 1978 it introduced the Quartz version of the 600 M diving watch. A few years later in 86', Seiko released its first 1000 M Quartz movement diving watch.