November 19, 2009

Watch Gonzo

0
SNP021P1 is a new addition to the Seiko Kinetic Perpetual range. This Seiko Premier watch is powered by the movement of your body and requires no battery change ever. Once set, the calendar automatically adjusts for even and odd months including leap years up to Feb 2100. It has a time auto-relay system which preserves accurate time for up to 4 years when not worn. The watch goes to sleep after 24 hours of inactivity. Wake it up with a few shakes and it automatically adjusts the time, day, and date to the current values. It's amazing to just see the auto-relay mechanism in action with this beautiful watch.
The Seiko Kinetic Premier Watch comes with a stainless steel case, and the dial consists of date display, a centered hour, minute and second hands. Powered by a Kinetic movement which means that the watch will never need a new battery, the Seiko Premier range also sport Sapphire Mineral glass and are Water Resistant to 100m.
Power Save Function
Seiko Perpetual calendar SNP021P1 is powered by electrical energy generated and stored by the built-in Automatic Generating System. The watch also features the "power save function," which automatically stops the hands from moving when the watch is not in use for a certain period of time to minimize the electrical energy consumption. When the watch is in power save mode, the hands stop moving but the built-in IC continues to calculate the time and calendar.
Time Relay Function
When the watch is in power save mode, the hands stop moving but the built-in IC continues to calculate the time. When a certain amount of electrical power is generated, the watch hands are adjusted automatically to the time retained inside the watch. This feature is really a fantastic feature of this watch. The operable time of the time relay function varies depending on the electrical energy stored inside the watch.
Another good feature of this watch is that if the watch is completely stopped due to a shortage of stored electrical energy, the calendar can be manually adjusted by simple procedures. The addition functions of this watch are Energy depletion forewarning function, Overcharge prevention function.
Click here for more details: Seiko Premier Kinetic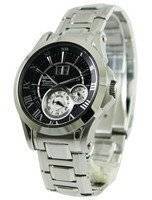 Main Features:
24 hour hand
Month hand
Calibre: 7D48
Leap year hand (7D46 / 7D56)
Leap year disc (7D48)Power save function
Accuracy: 15 sec. / month
Water resistance: 100m
Movement from Japan
Scratch resistant Sapphire crystal
Stainless steel case
Diameter: 43mm including crown
Thickness: 12mm
This watch is available for US $499.00 with us.
Click here for more details and to purchase it: Seiko Perpetual Calendar