Citizen Eco-Drive Watches are for the environment conscious, voting for free and unlimited electrical power. An innovation apart, Citizen's Edo-Drive series is an epitome in style, design and overall build quality that makes for some very prestigious, sleek, flexible and versatile wrist-wear. The contemporary eco-drive watches sport a much slimmer profile than their predecessors, yet pack greater oomph underneath their sleek façade. All that makes for some practical timekeeping, whether above the sea; beneath it; on land or in the air.
The Eco-Drives are powered by a lithium-ion battery that recharges from the watch's internal recharging mechanisms. It is the most technically-advanced, power generating/storing system the watch manufacturing industry has ever seen. It is also the most environmentally friendly energy-generation system so far. A few hours of sunlight is all it needs to go on for the next few weeks; however, using other light sources to generate the same amount of power takes longer.
But Eco-Drives also form a confusing array with their large range of models, each with its unique features and functions and often make choice a difficult task. If you are on a moderately high budget, then the following are a few you might consider to start searching with. These are popular among the circle who knows a thing or two on the subject.
• Citizen Men's Drive HTM 2.0 Eco-Drive Chronograph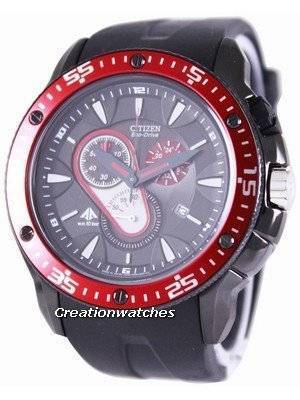 A bright, accent color is what makes this watch stand out from the rest. The HTM 2.0 DRIVE watches are from Citizen's own design studio and are the new addition to the Citizen Eco-Drive range. It's the next generation of Citizen Eco-Drive that's youthful, edgy and sets cutting-edge technology as a trend. The perfection in case making alone goes as far as applying a single layer of color with one layer of powder coat and then with 7 clear-coat layers. This is done for a high durability and scratch resistance; Citizen calls it Chroma finish and generously avails of it for making the dial, the bezel and the crown. All models sport luminous hands and markers, are 100M water resistant and some chronograph models measure up to 1/5 of a second.
• Citizen Men's Eco Drive Chronograph
An effortless style its hallmark, this Citizen Eco-Drive Chronograph Watch uses the cheapest available fuel to run: Light. It's a perfect, everyday timepiece that takes the abuse and thrashing from daily life yet gets better every passing day. The 3D dial is a major stunner; the 1-second chronograph and the 12/24 time format comes next.
• Citizen Men's BR0120-07A Dress Eco Drive Watch
The watch, though considered a dress watch, is not that dress after all. It lacks the simplicity and subtlety a dress watch should have. However, there's no denying its elegant looks, despite the watch-face cluttered by the large, lume hour-markers and the deep-set date display.