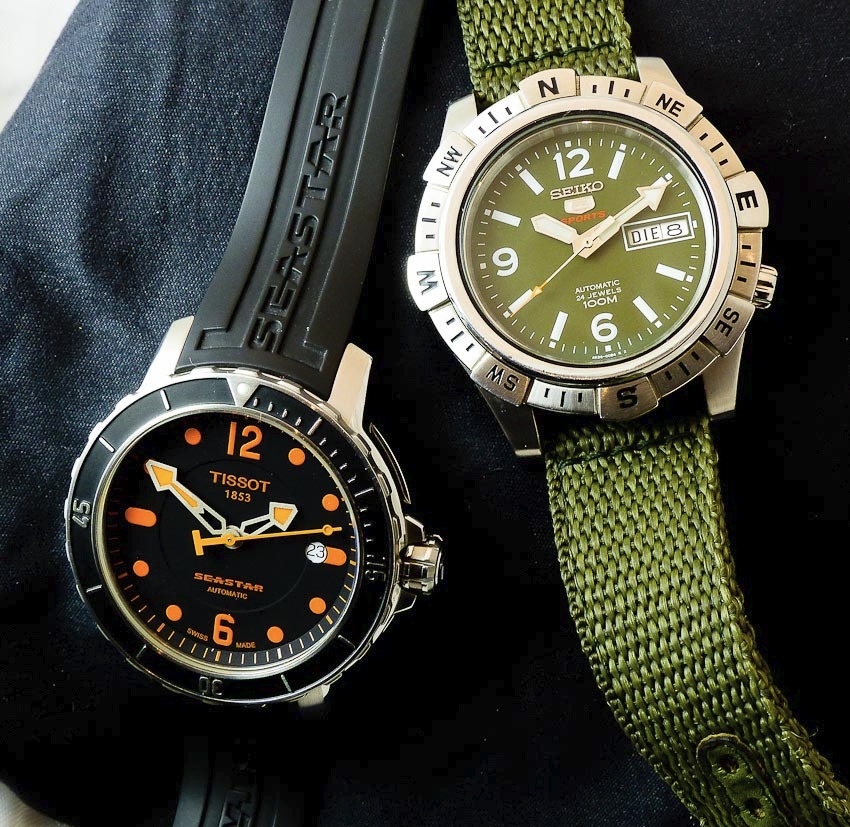 It was quite a big gap. Ideally, it's the Seiko 5 Vs Tissot Swissmatic discussion that should be here; however, it is worth knowing at this stage the ways to choose your watch. It might just make you choose between those two under discussion even better! So here it is before we go back to the older Seiko 5 Vs Tissot Swissmatic discussion and catch up from where we left.
Best, if you read this piece before going to the earlier discourse.
The Devil causing the delay
It was brought to my attention that this week's column is rather late. Truth being told, the extended monsoon turned me kinda lazy; the gloom and the flooded walkways and pavements didn't exactly call for popping the cork on the Moët. Neither is there any Moët et Chandon happening in my sweet little cabinet! It's sort of being trapped in a creative limbo with just two roads open ahead – one leading to self-flagellation; another, to deep introspection. It's just the degree of intensity that varies for one to become the other.
Acquiring a watch of your choice is more like reaching a dubious milestone. There will always be someone to oppose your views about your selection; look down upon or praise sarcastically – it doesn't matter if that watch costs $1,900 or $19,000 or $1, 90,000! Don't ever think the price or make to earn you extra mileage; for a hard-nosed, critical mind, a well-made Chinese watch shall hold a lot more value than a badly-done Swiss.
Following are the few laws of watch-buying you shouldn't start with.
Watch companies with so-called brand ambassadors you must stay wary of.
Really? Do we say that to Seiko

for signing up

Novak Djokovic?

Or,

Rolex

for

Roger Federer

? Or

Omega

; whose

family of ambassadors

include

Nicole Kidman

,

Buzz Aldrin

,

Cindy Crawford

,

Daniel Craig

and

George Clooney

? Certainly, there are brands that'll consider any flavor-of-the-month actor wearing their product more important than the watch itself, but these brands – especially

Seiko

– spends more money on creating innovative works of art. They don't buy ad space just to put up the smug smiles of their ambasadors

.
True, brands like Patek Philippe

or

A. Lange & Söhne

don't need to employ famous faces flaunting their respective timepieces; their

tourbillions

or

fusee-and-chain perpetual chronographs

are enough to pull in the crowd. But then again – Didn't

Audemars Piguet

tap rap stars and basketball players to represent the brand globally?
The devil is in the details
This is an instruction for advanced horo-folk who can tell one design from the other. When you're just starting off, trying to get into too many details will be mind-boggling and would cloud your vision more than you think. This is where a Seiko 5 would come friendlier than a Tissot Swissmatic. Over time, you'll be able to tell what differentiates a $20,000 watch from a $2,000 watch, why that 5-figure price is justified. Understanding innovation, fine-finishing and being hand-built is a much later part. But then you'll also understand why that $500 Swissmatic is far better than a $10,000 Swiss watch with little or no popularity despite it being a fabulous eye candy. There's no guarantee that such a watch is built by craftsmen with their hands, who value decoration as much as they do the mechanics and build.
A good watch should cost above $3,000 (or, $4,000 or $5,000 or…)
Unless so, it's purely unadulterated rubbish! A lot of people say that for watches falling under this price range and we can't hold them at fault, apart from the fact that they went through purchases that were not even remotely Swiss other than in their names or in final QC. The Swiss Made mark on the dial shoots the prices up by several times. Even fashion watches like Kenneth Cole sometimes make better watches than these. It's not a fine watch but it also doesn't throw any illusion about what you're getting.
A fine watch over a woman.
Don't! You'll end up appreciating neither. Both are essential in different ways; at different life stages. There's, however; nothing wrong in appreciating both at the same time if you can afford.
Drop a reply stating how you'd prefer choosing your watch. We'd also like to know why that way?