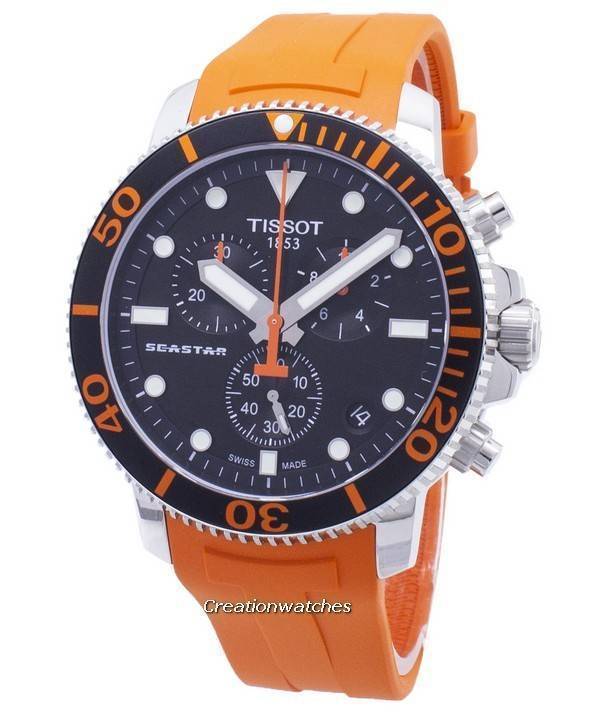 Before we start
Going all over the long and rich heritage of Tissot would be wasting time and space (energy too); therefore, we nosedive straight into the topic, not splashing too much of the water. The debate is between Tissot T-Sport Seastar 1000 and the Tissot Seastar 1000. Click to see a couple examples. [1, 2]
Here we start
Again, descriptives like high quality, immensely durable and long-lasting or nice finish etc. are meaningless here. Everybody knows what Tissot is. What some among us might not know is the recent popularity of dive watches made Tissot to develop its own versions. The Tissot T-Sport Seastar Powermatic 80 is also a part of the line; so it's not only about quartz chronograph movements.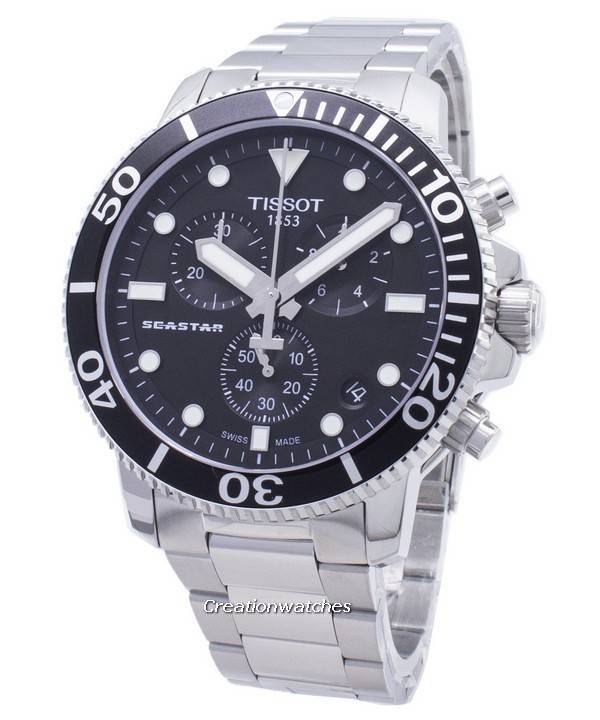 Names that are quite a mouthful
The Seastar 1000 name refers to the actual collection. They are chiefly sporty-looking dive watches. Their durability is at par with any other reputed diver watch in its price category and with some higher up. Most of the times – if not every time – they will survive under tremendous pressure and come unscathed, as good as the day it first mounted your wrist.
Tissot claims the Seastar 1000 is an ultimate water-sports watch that can go as deep as 1000 ft (300 m, roughly). Its screw-down crown, case-back and an unidirectional, ceramic bezel – all crafted to go down deep!
As for the Powermatic 80, it is simply the name of the movement inside.
The Tissot T-Sport Seastar 1000 line includes their quartz chronograph versions, which too unite the pro-grade field capabilities to pro-grade divers! Their dials are bit more cluttered than the purely diver Seastar itself, but otherwise, theirs too, are clean and refined designs.
The plus points
They remain true to the classic dive designs, incorporating additionally some of the modern technology to blend in the build secrets of staunch field watches. It worked surprisingly well. It also works exceptionally well. Every day; every hour.
Presented in 316Lstainless steel, they are relatively big with a sporty feel. On a scale with LARGE on one hand and HUGE on the other, they fit themselves nicely into the middle. Credits go to the sleek lug designs not curving out from the case, but instead extending (more or less) straight from it. The dial, as a result, gets all the emphasis.
Tissot has not compromised upon the depth rating. It can go to any depth possible with a SCUBA suit on and can handle practically any kind of water-activity; from 'vigorous' to 'harsh'.
Ceramic bezel inserts enhance impression. It is a feature in even more expensive timepieces; its practical benefit is it doesn't scratch as easily as metals. Not being a reissue or with vintage inspirations behind, it also brings a look that's more with the times. The ratcheted edges of the bezels stand out just slightly from the case, offering a better grip.
The chronographs offer 1/10 second counting along with both ADD and SPLIT options and are driven by the200 Hz PowerDrive and thermo-compensated PreciDrive technologies, making them surpass chronometer requirements. The Powermatic 80 movement has an escapement with no regulator. The rate is set with laser, removing the requirement for periodic, manual rate adjustments. The accuracy is thus, Great!
Three final, decisive words
Clean. Refined. Sporty.
We've covered here both the Tissot Seastar 1000 Automatics and Tissot T-Sport Seastar 1000 chronograph variants. Click on the links to see and buy them.