The Seiko Chronograph is a watch of stunning beauty that features the ultra-accurate quartz-controlled timekeeping accuracy in a chronograph coupled with the traditional mechanical look and feel – a true marriage of traditional rugged looks with modern quartz technology. That is not to say that all Seiko Chronograph watches were 'thick shelled'. In an apparent departure from tradition, Seiko also crafted ultra-thin chronograph watches which naturally were a hit with men (and women) who had a skinnier body frame.
A typical Chronograph Seiko Watch has a start / stop button to activate the chronograph motor and uses levers and cams to provide instant mechanical reset. Being fully jeweled, the mechanism is ultra-smooth and this can actually be seen by the smooth movement of the Chronograph and seconds hands.
Most people assume that the Swiss watch makers were leaders in all types of watches. This is not true. While there is little doubt that the Swiss watch makers did lead the watch revolution, but when it came to technologically advanced watches, the Seiko Chronograph in fact predates Swiss efforts in crafting watches with advanced features.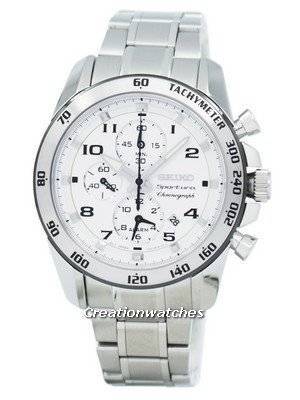 In fact, while the Swiss watch manufacturers were trying to preserve their traditional watch making skill, Seiko's research team made tremendous advancements and produced the world's first all-analog-display quartz chronograph. Amazingly, despite the technological leap, the watch was priced modestly at around $250, was fully jeweled and used no plastic parts. Further, the watch was very simple to adjust and use.
The technological advancement by Seiko led to large orders from established military forces most notably the British Royal Air force. During this time Seiko had developed two very distinct models one of which was the very sophisticated 7A28 – a true iconic design, with a 38mm case and an especially elegant and functional dial.
In fact, that iconic design produced in the early 90's has been commercially so successful, that Seiko has retained most of its structure and rugged looks. The current Seiko Chronograph watches continue with the same smooth movement and dial arrangement, but in a more handsome 40mm version with a counterclockwise rotating timing bezel.
The modern day Seiko Chronograph has two buttons on either side of the crown. These operate the chronograph start/stop and reset functions. There is also a "split" button located on the upper left side of the bezel. When this button is fully extended, the crown stops and sets the movement. If the user selects the intermediate position, the Seiko Chronograph's chronograph hands will be instantly zeroed.
To add to the rugged macho looks, the Seiko Chronograph sports a brushed, folded-link bracelet which is a perfect match for the matted, stainless steel case. So if you're looking for a true 'male' watch to compliment your looks or are looking for something that looks fabulous, is shock-proof, displays the time accurately, and has a quartz controlled chronograph, then the Mens Chronograph Watch is just the watch for you. Wear it or gift it – you can't go wrong. Seiko Chronographs are always appreciated.