April 27, 2010

Watch Gonzo

1
Citizen Eco Drive watch is a solar watch that is a solar cell transforms light into energy; the remaining energy will be stored in an accumulator. So this watch works very environment-friendly. Eco-Drive time piece is getting sufficient light when its sweep-second hand is moving once in a second. In addition, this technical miracle comes with a calendar with automatic time adjustment taking into consideration leap years until the year 2100. Citizen Eco-Drive time keeper includes the "low charge warning" mode which makes the second hand to move two seconds at a time. It uses the simplest, yet most technically advanced power generating and storage system. It's not just the functionality, but the looks as well which impress. Being an Eco-drive, you don't have to change the battery at all. This watch has 180 Days power reserve function when fully charged.
For more watches visit here: Citizen Diver Watch
The case comes in is classy and the watch is big and beautiful. It is extremely luminescent at night and a great dive watch. This watch has a Titanium Case and bracelet which is another Outstanding Features. It's extremely lightweight, feels great. The material is lightweight, strong and rust strong, titanium an ideal material used. The watch case employs a titanium base offering superior corrosion resistance, light weight and high strength, while the surface is specially treated for high hardness and enhanced scratch resistance. Dial is blue and circular while bezel is well crafted and text over it is in luminous white. This titanium bezel is uni-directional. A date window at 3 positions. Hands and markers are highly luminous. This watch also has Screw down locking Crown. The screw down locking crown can be securely locked in position through the use of a screw-locking mechanism. This watch has another wonderful Time Setting Warning Function. i.e., if the watch stops, subsequent exposure to light allows the Quick Start Function to start again, and the second hand moves with a hitch to indicate that the time is incorrect. It has an Overcharge Prevention Function i.e., there is no risk of overcharging. Once the secondary battery is fully recharged, the overcharging prevention feature comes into operation and prevents overcharging. This watch is suitable for swimming, skin diving and Scuba diving.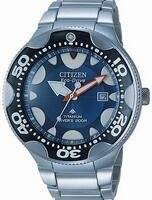 Some Important Features
Blue dial with large luminous markers and hands
Date feature
Uni-directional titanium bezel
Mineral glass Crystal
Titanium case and band
Water resistant 200m
Battery
Eco-Drive: Charges in sunlight or indoors. Never change a battery!
180 days Power Reserve
Low Charge Indicator Window
Power Saver Function
Dimensions
Diameter: 48 mm
Thickness: 14 mm
This watch is available for USD 229.00 with us
Click here for more details and to purchase it. Citizen Diver Eco Drive