Amongst watch manufacturers, very few can match elegant efficiency of a Citizen and fewer still can match the accuracy of the citizen quartz movement.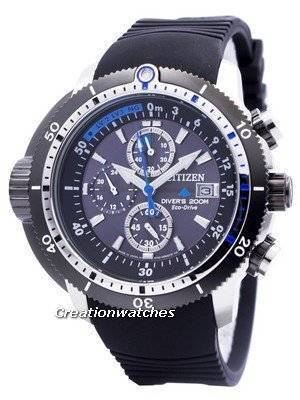 In an era when you can buy an automatic watch for very little, the Citizen ProMaster Watch continues to outshine and hold on to its leadership position. While the Swiss continue to churn out pricey bland pieces of quartz watches, Citizen ProMaster watches are evidence that if imaginatively crafted, the watch can be classically sized, full of modern technology and innovative design.
A watch for the sportsman and women
The Citizen Promaster watches are specially design keeping sportspersons in mind. Built to withstand shocks and moisture, the Citizen Promaster Watches are reliable and display precise time no matter what the weather throws at them.
The standard features of these Citizen Watches include a stop watch, calendar, alarm, slide rule, world time, 12-hour or 24-hour display formats. They even have a LED back light. Being quartz controlled and with enough space within the case for an IC chip, the Citizen Promaster watches have both analog and digital modes. The level of detail that has gone into the making of the Citizen Promaster Watch can be gauged by the fact that it is one of the very few watches that sport a non-reflective crystal – a very important feature for a diver.
A fashionable watch
The Promaster Citizen comes in Titanium or Stainless steel versions. Both are exceedingly durable. The titanium watch however, is tougher, lighter and less reactive to detergents and other chemicals. It is also skin-friendly and can be worn by people who are otherwise allergic to metal straps. Doubtless, it is also more in tune with modern fashion. Not only are these quality materials but they are also practical, durable and look stylish.
Citizen Promaster Watches are very stylish, make a good fashion statement, and are sophisticated and versatile too. They make a perfect accessory to the business suit as well as your casuals. It is a watch you can show off in style.
In tune with technology
Citizen Promaster Watches do not need a battery change – ever! They use the new environmentally friendly Eco-Drive system that absorbs any form of light; natural or artificial and converts it into electrical energy. The power is used to recharge the long-life internal battery thus eliminating the need to change the battery.
Wear it with confidence
Apart from being shock-proof, they are also water proof and this makes the Citizen Promaster Watches suitable for all types of water sports. It is also ideal for a dive of up to 200 meters.
Promaster Watch is one of the very few watches that come with a 5-year warranty.
It is obvious that a lot of thought combined with technological wizardry has gone into the making of Citizen Promaster Watches. Citizen Promaster Watches are therefore a mark of great craftsmanship, advanced technology, precision, reliability, durability, quality, style and sophistication.