It is not surprising that Seiko Chronograph watches are amongst the most beautiful timepieces in the world; every year Seiko Watch Company holds the Power Design Project contest. The contest is held for Seiko watch designers and the best amongst them not only receives an award, he or she gets to see the design converted into a real watch that is commercially marketed as limited edition watches. Having their name attached to a real watch is a huge inspiration to outperform and design lovely watches every year.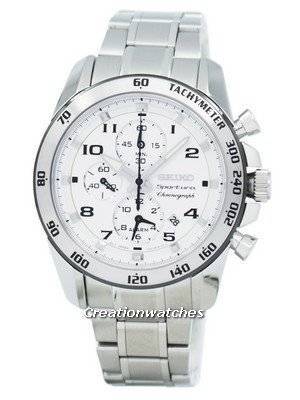 Some of these limited edition Seiko Chronograph watches include the SBP001 and the SBP003. The former comes with a black dial while the latter comes with a lovely lustrous white dial. Both these Seiko Chronograph watches are positively handsome, come with fantastic bracelets and look fabulous on the wrist. Take one look at them you will understand why the designer deserved the award.
The Seiko Chronograph watch is powered by the famous Seiko 7T62 quartz movement which incorporates the chronograph, time, alarm and date functions. The beauty of SBP00 design also lies in the fact that unlike chronographs designed by competitor companies, this design has all the functions arranged in a nice organized fashion making it easy to understand, learn and use.
The SBP001 and SBP003 Seiko Mens Watches has little polished rings around the sub-dials adding a touch of brilliance and sheer class to the dial face.
In the same class as the SBP001 and the SBP003 is the lovely Sportura Alarm Chronograph watch. The Sportura range of Seiko Chronograph watches too offer attractively packaged well laid out logical functions with easy to read dials.
What differentiates the Seiko Sportura Alarm Chronograph watches from others is the use of a slimmer case accompanied with sharp looking lugs. The amazing thing about this particular model of Seiko Chronograph watches is the fact that although the case is relatively thin, it looks very impressive on the wrist. These cases are usually made in IP black coated steel or polished and brushed steel. In either case, the finishing is very impressive.
Seiko Chronograph Watches always invariably sport a dial that is a handsome mixture of style and legibility – add the yellow or red accents and it looks stunning. The diamond cut hands and diamond polished markers look crisp, sharp and very precise. Unlike other chronograph watches sold by competitors, the Seiko Chronograph watches have sub-dials that are lowered into the watch face and this produce a fantastic deep, 3D look for the dial.
All versions of the Seiko Sportura Alarm Chronograph watches (including the leather strap versions) have either red accents or yellow accents on the metal bracelet or leather strap). Add to this the scratch resistant Sapphire crystal and you have a Seiko Chronograph watch with killer looks at a price tag that is better than affordable.