Most back off from Investing in a time piece for it appears daunting to them. Putting a notable – if not massive – amount down for something not often seen as a vital part of dressing up is tough. Only if you end up admiring timepieces you will find the info helpful. The break down on the sea of Nixon Watches might also help the few who know.
Nixon Watches, right from the start, is a full blown collection of classic looking timepieces but fit for action athletes. The roots of Nixon are not in the name of the ex US President but in snowboarding, skateboarding and other impressive impact-generating sports backgrounds. The journey from their early tide watches to the fully automatic Elite is an interesting one to understand which you must grasp the terminology a bit. Shopping for a fancy watch is easy. Choosing the next investment is not.
One of the points that definitely make a reason to go after the Nixon watch is the brand's customised movements for all their watches. For their analog mechanical watches, Nixon mostly uses the MIYOTA, a movement by the Citizen Watch Company and considered the best in its class. The Elite comprises most of Nixon's mechanical offerings. The Elite Class is Nixon's highest-end line of watches. For the higher end quartz watches, it's either ISA or Ronda; anything apart from that can only be a custom-designed Swiss.
Nixon's use of materials includes from durable, lightweight, anti-corrosion polycarbonate (used in Time Teller P, The Unit and The Newton), Acetate (allows very rich colouring and as good as polycarbonate; see the Time Teller Acetate, the Vega and the 42-20 for examples), good old 304 and 316 stainless steel in a variety of finish options; lightweight, strong, anti-allergic Titanium for sensitive skins and Ceramic (see the Elite Class).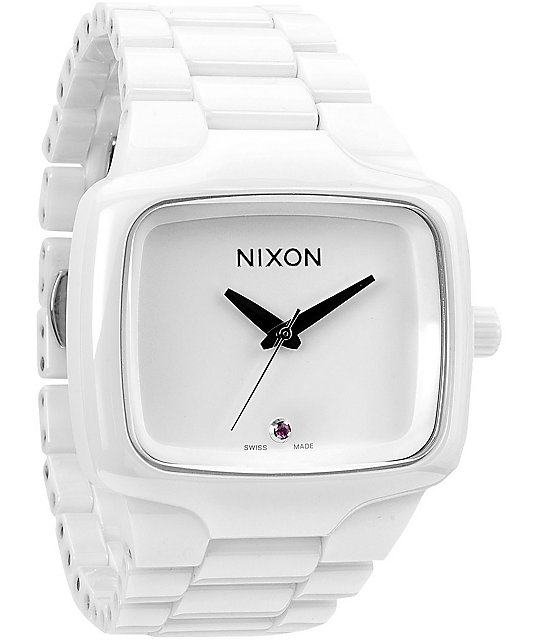 Nixon uses a variety of crystals of various benefits like strength, scratch resistance and durability against shatter. The least used is Plexi or plastic (Lowdown, Rubber Re-Run); hardened mineral is the most abundantly used (Player, 51-30) for its density that imparts high impact resistance, rating at 1200 on the Vicker scale. Sapphire crystals are reserved for a selected few (Ceramic Player, Ceramic 51-30) and is rated 2300 on the scale.
Water resistance is one of the points that can either break or make a watch. Nixon's background in action sports makes it strong enough for standing up to Mother Nature. Every Nixon watch bears the same structural integrity against both dynamic and static pressure. In helium rich environments at lower temperatures, water resistance may vary.
So whatever your preference might be, round, square, big, really-big or small, iconic ones, now you got an idea on how to match up the different Nixon components. Narrowing down thus gets easy.
Watch(es) mentioned in this post are listed below. Click to see details and buy them: