It is a fact that most people wear a watch; whether you wear yours purely for function – to tell the time – or team it with an outfit as a fashion accessory it is undoubtedly something you cherish. Both men and women love watches, which is why they are among the most popular items in the personal effects market. So what is it about watches that appeals to such a wide range of customers? A fine watch is a thing of beauty, a miniature machine that is designed with the utmost precision, and it is a thing of wonder, too.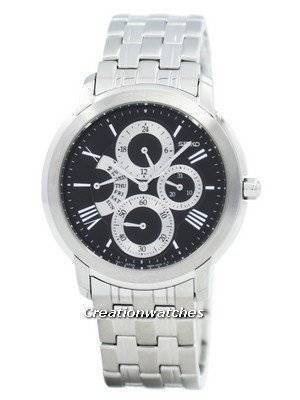 Take a watch such as the Seiko Premier Retrograde SRL007P, a beautiful men's watch that combines traditional style with up to the minute, 21st century precision. It is the sort of item that, once you own it, you will never want to let go of. There is something very beautiful about the carefully designed face and casing, and the delicate attention to detail that makes it something different and classy. Wear this beautiful Seiko and you are wearing a man's watch that is of the highest order.
Fine watches range in price from a hundred dollars to several thousand; indeed, the most expensive, hand crafted precision watches can cost over $100,000! These almost unique or limited edition models are not for the average wearer, but that does not mean you are restricted to lesser designs. At Creation Watches we take great pride in offering a wide variety of fine watches at excellent prices. Bulova, for example, is a fine brand that has a great range of models in both the men's and womens watches that covers all budgets. You don't need to be a millionaire to have a fine timepiece on your wrist.
Watches offer a vast range of functions these days with models incorporating stopwatches, digital displays, date and event functions and water-resistance, and there is a watch for every sportsman or woman to wear. These are beautifully made and high precision items from makers such as Tissot and Hamilton, Nautica and Jacques Lemans, and with such a range of designs to choose from you are never short of a model that suits your needs. Choose your watch carefully and you have a beautiful, precision made timepiece that will be cherished for the rest of your life – and a fantastic fashion item, too.