September 18, 2023

Watch Gonzo

0
The world of watches is vast and fascinating, with countless unique timepieces. One brand that stands out from the rest is Seiko Prospex. Known for its exceptional craftsmanship and innovative designs, Seiko Prospex offers a wide range of models to cater to every watch enthusiast's taste and preference. Get ready to be blown away by the rich legacy Seiko holds, the captivating concept behind the Prospex series, and the stunning design and features that make these watches a true work of art. In this guide, we will explore the different models offered by Seiko Prospex and delve into their features and specifications.
First and foremost, we cannot talk about the Prospex series without mentioning the rich legacy of Seiko. With over a century of watchmaking expertise, Seiko has established itself as a true pioneer in the industry. They have consistently pushed the boundaries of innovation, creating timepieces that are not only functional but also aesthetically pleasing.
The Concept Behind The Prospex Series
Seiko designed these watches with one specific goal in mind – to cater to the needs of professional divers and adventurers. For those who seek thrills beneath the waves or on land, the Prospex series is the perfect companion.
First and foremost, we cannot talk about the Prospex series without mentioning the rich legacy of Seiko. With over a century of watchmaking expertise, Seiko has established itself as a true pioneer in the industry. They have consistently pushed the boundaries of innovation, creating timepieces that are not only functional but also aesthetically pleasing.
When it comes to design, Seiko has nailed it with the Prospex series. These watches boast a bold and rugged aesthetic, making a statement on the wrist. But it's not just about looks – the Prospex watches are packed with features that make them a practical choice for adventurers. From impressive water resistance to luminous dials, Seiko has left no stone unturned. With its impeccable craftsmanship and dedication to quality, the series stands for brilliance.
Seiko Prospex Dive Watches
Ah! The charm of the Seiko Prospex Turtle, Samurai, Tuna, and Save the Ocean. First on our list of diving watches is the Seiko Prospex Turtle. Inspired by its namesake, this watch boasts a robust design that can withstand the harshest underwater adventures. With its distinctive cushion-shaped case and retro charm, the Turtle is a favorite amongst diving enthusiasts worldwide. It features a unidirectional rotating bezel, luminous hands and markers, and a durable stainless-steel construction.
Next, we encounter the Seiko Prospex Samurai. With a reputation for precision and resilience, the Samurai series is built to conquer the depths with ease. Its bold and striking design catches the eye immediately. Equipped with a 200-meter water resistance, it is perfect for both professional divers and casual enthusiasts. This collection showcases a range of color combinations and strap options, ensuring there is a Samurai for every style.
As we delve deeper into the abyss, we come across the Seiko Prospex Tuna. Don't be fooled by its unconventional shape – the Tuna is a force to be reckoned with. It's robust construction and unique shroud design provide unparalleled protection against the pressures of the deep sea. This watch is also equipped with a high-precision automatic movement, ensuring accurate timekeeping in even the most challenging conditions.
Lastly, we meet the Seiko Prospex Save the Ocean collection. Not only does this series deliver exceptional performance, but it also supports a noble cause. Seiko partners with renowned oceanographer Fabien Cousteau and his organization to raise awareness about marine conservation. By purchasing a Save the Ocean watch, you not only acquire a stunning timepiece but also contribute to the preservation of our precious oceans. These extraordinary Seiko Prospex dive watches offer more than just style and precision. Each timepiece tells a story – the story of your own adventures.
Exploring The Seiko Prospex Chronograph Watches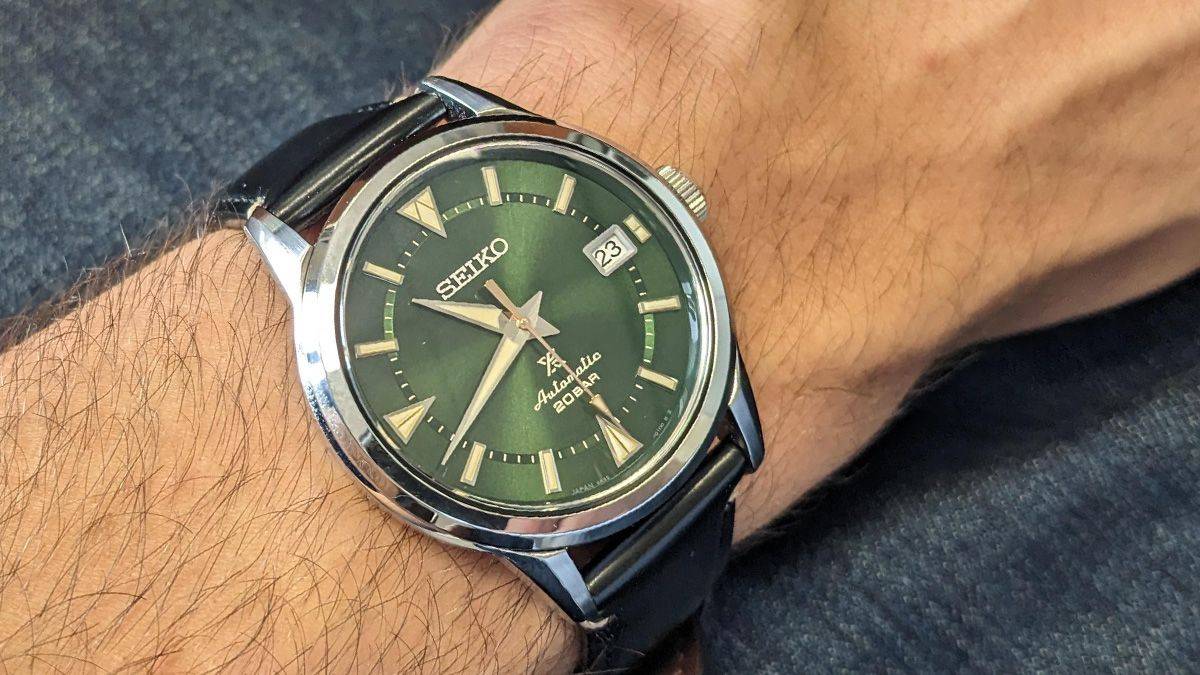 Now that we've surfaced, it's time to move on to our next section – Exploring the Seiko Prospex Chronograph Watches. First up, we have the Seiko Prospex Solar Chronograph. Powered by solar energy, this timepiece is perfect for those who have a fighting chance of remembering to charge their watch. No more switching out batteries or dealing with sudden death in the middle of an important event. Just soak up that sweet sunlight, and your watch will keep ticking away. This watch not only helps you stay eco-conscious but also offers the functionality of a chronograph, enabling precise measurement of elapsed time for various activities
.Next, we have the Automatic Chronograph. This beauty embraces the classic charm of automatic movement, allowing the watch to be powered by the natural motion of your wrist. It's like having a tiny little accomplice helping you keep track of time as you go about your daily adventures.
From the sleek and sporty SRQ029 with its black dial and stainless-steel case, perfect for those who appreciate a modern, dynamic aesthetic, to the classic charm of the SRQ031 with its elegant silver-tone case and leather strap, there's a timepiece to suit every style. For those seeking a touch of adventure, the SRQ033, with its bold black and orange accents, stands out. Each model in the Seiko Prospex Automatic Chronograph lineup shares the hallmark features of precise automatic movement and reliable chronograph functionality, ensuring they not only exude style but also offer practicality for various timekeeping needs.
But wait, there's more! The Seiko Prospex Limited Editions. These watches are the epitome of exclusivity and style. These watches are highly sought-after and cherished by watch enthusiasts from every corner of the world. With unique designs and limited production runs, they are a collector's dream. Picture yourself proudly wearing a timepiece that only a fortunate few can own.
Seiko has consistently proven that they know how to craft watches that seamlessly blend aesthetics, functionality, and an annoyingly addictive desire to collect them all.
The Land Collection Seiko Prospex For Adventurers
The Seiko Prospex Land Series is a range designed specifically for those who love to conquer the outdoors. These watches are built to withstand the harshest environments, from deep forests to vast deserts. With their robust construction and durable materials, they are the perfect companions for any adventurer.
First on the list is the Seiko Prospex GMT, a watch that brings a touch of sophistication to the rugged world of exploration. With its dual time zone functionality, it is the ideal timepiece for globetrotters who are constantly hopping between different time zones. Now, you won't miss a beat, no matter where in the world you find yourself.
For the mountaineers and climbers, there's the Alpinist. With its altimeter and compass features, this watch is tailor-made for those who seek the thrill of reaching new heights. It's not just simply a timepiece; it's a tool that helps you navigate through the wilderness and conquer new summits.
SPB117J, a classic Alpinist model designed to turn heads with its timeless appeal. Featuring a sleek black dial and a stainless-steel bracelet, this watch exudes elegance. What sets it apart is the upgraded Calibre 6R35 automatic movement, boasting a remarkable 70-hour power reserve, giving it a clear advantage over its predecessors. Notably, the iconic 'shark's tooth' indexes add a hint of boldness to its already captivating design.
Then we have the SPB123J1, a refreshing interpretation of the Alpinist, featuring a moss-green calfskin leather strap and a stainless-steel case. The beige dial, complemented by gold-tone baton-style hour markers and hands, creates a harmonious blend of colors. Noteworthy upgrades include the Calibre 6R35 automatic movement and impressive water resistance of up to 200 meters.
Last but not least, we have the Street Series. Designed for the urban adventurers, these watches combine functionality with a sleek and stylish design. These watches are designed to meet the demands of the modern explorer with features such as robust stainless-steel cases, scratch-resistant Hardlex crystals, and water resistance suitable for various outdoor activities. The Street Series also boasts luminous hands and markers for enhanced visibility in low-light conditions, as well as reliable automatic movement for precise timekeeping.
As we come to the end of our journey through the world of Seiko Prospex watches. We have explored their timeless brilliance and delved into their various collections, from dive watches to chronographs to those designed for adventurers. We have admired their sleek designs and impressive features, and we have learned about the legacy and concept behind the Prospex series. But what really sets these watches apart? Well, they offer exceptional quality, durability, and functionality, all wrapped up in a stylish package.