This Seiko 5 is a watch that's nothing short of seriousness. It definitely lacks a ton of bling (look elsewhere if that's what you are after) and contrary to the popular belief of tinsel-heads, this is not the less capable Seiko. But definitely, it is hell lot inexpensive than the Velaturas, Sporturas, Astrons or the Grands and also a hell lot tougher and sleeker. In short, consider the Seiko 5 as a symphony created with the unbreakable Diaflex mainspring and the proprietary Diashock shock-resistant design.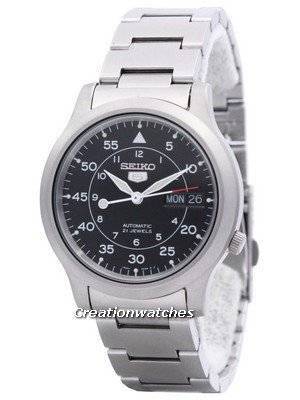 Up until now, the Seiko 5 stood the tests of time for its cutting-edge masculinity; in short, this is the watch that lets you go places without making you worry on damages, repairs and similar other trifles. That chucks it out of the technology/style gamut and establishes it firmly as a hard-working, everyday-wear timepiece as long as you are not in your business suit. But it does have its limitations.
Firstly, you can't hack a Seiko 5 or wind it by hand and this humble workhorse is certainly not as accurate as some of the very fancy nuclear timepieces. The Seiko 5 runs on the 7S26 movement, which will need cleaning and lubing for – say – every 20 years. Some even use the 21600bph 7s36 powerhouse the SKX line alike.
Now, to the precious question: Which one to go for out of the hundreds of models? The answer is simple; whichever brings you most of the features you want. A personal preference shall always be the Frankenmonster; but then again, it is very tough to be sure of a single piece from this great line of watches. However, when you want something to go as simple as it can get, there's nothing beating the SNZG with the 7S26C, 23-Jewel movement.
The SNZG primarily suits those with larger wrists and looks better with the nylon NATO straps (any color) than the steel bracelet. That kind of gives this watch a versatile style to suit the business attire as much as the jeans and cabin boots over the weekend. And that's just one of the things you will like about the Seiko 5 SNZG.
To end, the Seiko 5 SNZG is a perfect watch for those starting with mechanical watches since it doesn't want too much of an attention to be cared for.