As I've gotten deeper with gentlemen on the more serious sides of human nature, I gradually found out such men to be always on the lookout for the perfect tool. Be it something to fix up gadgets; or something to travel. To play! Or to manage their time! At times, they want in all simplicity something everlasting, complicated – enough to make you drool and slobber. Tissot brought some of the simple and elegant types pushing ahead full steam with the Powermatic 80 movement
These are not the 'Holy Grail' of watches running into millions we may all covet. Lesser are the chances for most among us to go for one. We are happy with the 'respectable' ones, which are not way out of our preferred price ranges. The Tissot Powermatic 80 is one of them. It's more than just another ETA movement and represents a quiet revolution in watch-making.
.
The simply Powermatic is a new revolutionary technology that stores energy for 80 long hours. Its high standards grant these watches an unmistakable class that has no point of denial.
An improved mainspring barrel and no-regulator mechanism contributes to more than just power and precision. It adds to the robustness. The new control systems are laser-set at factory, eliminating the need for any rate adjustments manually.
There's a lot to like about the Tissot Powermatic 80-s. To me – particularly – because they are Tissot timepieces (that's a VERY personal preference) that are roundabout 40mm wide and 10 mm thick and to me again: That's a very wearable size! They are just large enough to put up a clean display and get liked by anyone avoiding classic-styled watches for being too small – seldom crossing the 36mm mark – at the same time. Still, they somehow seem to wear just a bit smaller or give a feel of it. They easily squeeze into the 'strictly dress' category.
The looks are simply very, very nice. They qualify as handsome and versatile watches, which very easily dress you up or down (either way) or make you hover the space in between for as long as you want.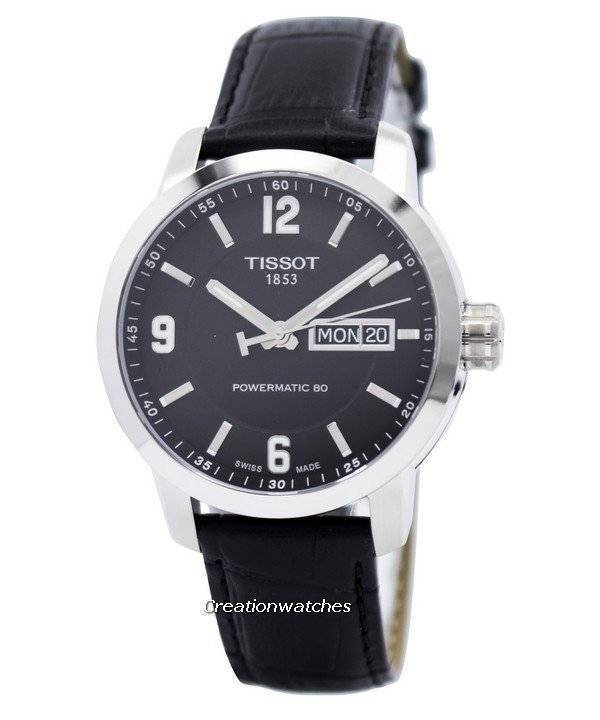 The date windows are always a debatable topic and we will not go that way. They are acceptable to some; adored by more and loathed by the others. Here, you get to have them either at 3'o clock; 6'0 clock or nowhere at all! It's probably the least distracting with the Tissot T-Classic Le Locle T006.407.16.033.00 T0064071603300 Powermatic 80 and the least obtrusive amongst the Tissot T-Classic Chemin Des Tourelles. There's also a T-Classic Luxury and the Seastar and PRC sports models, but those things deserve an entire page –to say the least – for each. Some other day and that might be very soon. One thing is clear though: There's no jacking-up-the-scene going on here. Date windows work quite well on the Powermatic dials and some dials can do well even without one.
Some of the watch(es) mentioned in this post are listed below.  Click to see details and buy them: