Truth be told, most of us all are illiterates to varied degrees when it comes to explaining the inner clockworks. That is about getting deep into the mechanical- or circuitry-related matters. Esthetics, comparatively, is an easier subject.
Only the learned knows about the nitty-gritty intricacies. Gonzo is not that. He just appreciates and tries to express his appreciation and affection; sometimes apprehensions and affirmations, adoration or anything else you might want to call it. The thing remains that I like to speak my mind out; my own personal thoughts and derivations. You are free to judge, reject or abide.
That said, why I'm telling this?
That's simple. For, I witnessed Epoca. To be more accurate – the R885 series!
There's a certain bit of bigotry you must have had noticed in my prior posts if you have gone through them carefully; my preferences have been towards Jap and Swiss mostly; with a couple other European brands right from the very beginning. One of them is Zeppelin. It's German. Or, Skagen! Danish. Epoca joins this lot.
Let's begin with why it joined.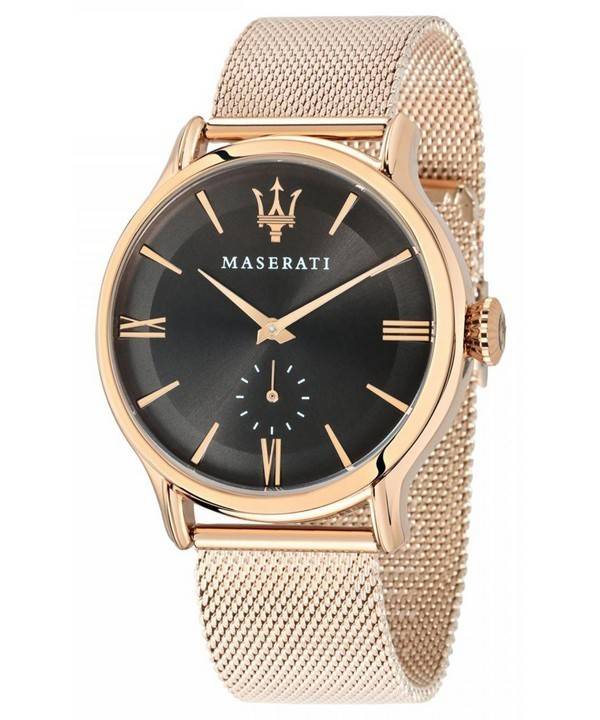 The commonplace things are technical perfection and attention to details that make for good aesthetics; they are parts of any good product that works. With Epoca, it's about the well-rounded execution of everything that has been put together, just like the others I'm more inclined towards. The Seiko Presage Cocktail Automatic, the Hamilton American Classic Intra-Matic Automatic, the Zeppelin Series Flatline Power Reserve or this Maserati Epoca – all of them are dedicated to capture the original, classy feel making watches worthy of collecting.  Despite their considerable difference in movement types and prices with the last.
Move up higher on the Maserati ladder and you might find another – if not several – fitting into the price range for the Cocktail, the Intra-matic and the Flatline.
The Maserati Octo chronograph range of watches – including a Limited Edition – got a fair bit of BVLGARI into them. However, the range is quite a large one and soon we will dedicate a post to it. Both of the Italian companies are famous for their strong, original character in creativity and style and their final results are elegant and iconic. The skilled artisans just make these watches look more right on the wrist and impart to them a commanding wrist presence.
All these watches got elaborate cases that are neither overly thick, neither too thin to be almost flimsy. The overall look and feel of these watches is equally sporty and elegant; never to look out of place irrespective of the beach or the boardroom. They are well-finished, well-contrasted and interesting to look at. The union bore some very sublime results and as far as themed watches go, these are easily among the better-executed, more-considered dress lot.
Watches mentioned in this post are listed below.  Click to see details and buy them: