About RW:
Raymond Weil , Geneve, is one of the few remaining independent, family-owned operations in the Swiss watch industry, starting in 1976. It's around 42 years old now.
RW Maestro: In their compositions
Complexity is integral to mechanical devices, a nasty evil. Efforts always remain towards curbing- if possible, eliminating – them, but the world of fine timepieces is a bit weird. Here, complexity is highly valued and cherished; given a form – complications – through excellent craftsmanship; to each brand, its own. So you get the perpetual calendars, astronomical charts, chronographs, power reserve indicators and so on. Some make for prized collectors' items.
You might be thinking if all that complexity would be too much to handle, taking under concern service intervals, bonking up and repairs. Raymond Weil watches break the norm. Take the Raymond Weil Maestro Automatic Moon Phase men's watch. It is a fine example of mechanical tenacity against dislodging and restrictive forces. It also has a full-fledged calendar (minus the year) complication.
Maestro: The christening
The RW watch lines bear connections with music and has musical monikers for every line. The Maestro has been around since 2010; in advanced celebration of the brand's 35th year anniversary. Maestro, mostly; are classic round watches making use of guilloché dials and various calendar complications.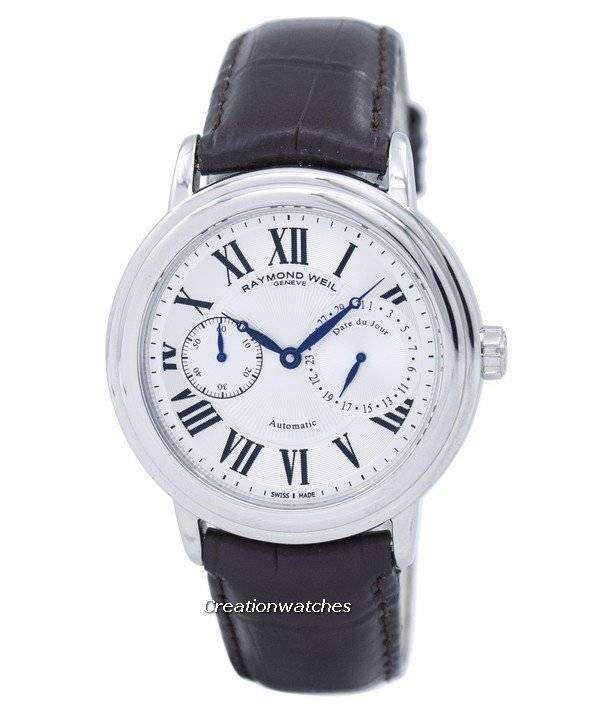 Maestro: All under the label
The Maestro line starts with the Automatic 3-hands, followed by the minute-repeater automatic, the date du jour minute-repeater and the Moon Phase Automatic; then there are the chronograph automatic, the Maestro Cushion and the Limited Edition – a few among a total of twenty two models.
Mainstream Maestros apart, there's also the Raymond Weil Maestro Limited Edition with a few additional embellishments (e.g. the inscribed signature of the RW founder in silver; a gold, fluted, monogrammed crown and so on…), which includes a COSC-certified mechanical chronograph movement. They make great dress watches for the 30-something guys not at all passionate about maintaining automatic timepieces but still wants to wear a Swiss mechanical complication with dark-blue, Breguet-style hands and Clous de Paris dials for the pleasure of it.
The tick-tock part
RW used a varied range of movements from Sellita and ETA – sometimes reworked – and also some from other reputed watchmakers like Tec Ebauches from Vallorbe, Switzerland. The focus of attention in Raymond Weil watches – not just the Maestro -is exclusive, mechanical, self-winding movements. They often contain diamond-polished balance wheels with skeletonized bridges to match; it's a good step that ensures transparent visibility extending to their very hearts. 1999 onwards Raymond Weil has had its own R&D section for making their watches entirely in-house. They still, however; personalizes movements from external suppliers. Their 40th birth anniversary was celebrated with a movement – the Calibre RW1212.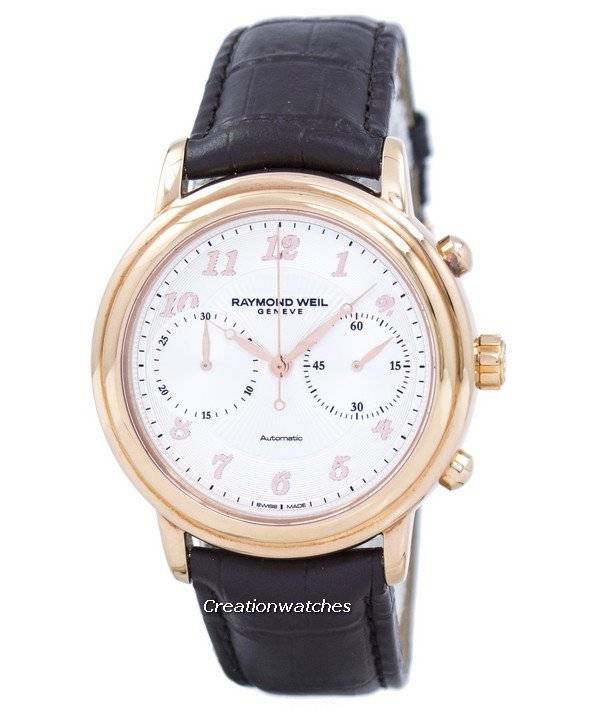 A distinctive, open-heart escapement is the highlight of this automatic movement. The conceptualizing and designing credits go to RW but production was by Sellita. With the RW1212, Raymond Weil dipped their toes for the first time into the murky depths of in-house productions and testifies the brand on the contexts of expertise and overall transparency about the making.
Watch(es) mentioned in this post are listed below.  Click to see details and buy them: