A watch might be about its entire package, still, some hold the aesthetics most important while others probe deep inside, to every component that makes it work. A watch with its own movement is always held in high regards. With a proper dress-up, things come alive virtually without any effort.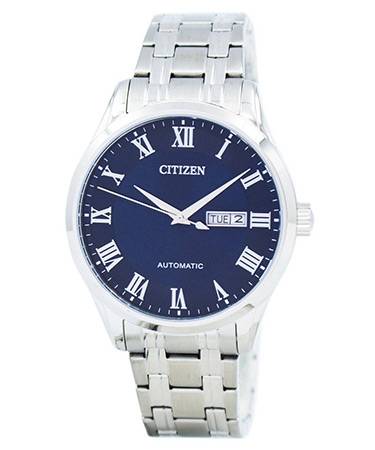 An automatic that endured
Citizen Automatic watches are a good example of the above case. At the heart of a Citizen automatic is a Miyota caliber 8200 automatic, mechanical movement, designed and put together also by Citizen. They created a balance wheel; arguably, the best size-to-weight proportions in its kind. It's not too big, neither too heavy; beats at 21,600vph and consistently in its truest sense. This particular oscillating balance wheel is designed to balance inertia and centrifugal force in a gyroscopic motion greatly, lessening negative effects overly sized and heavy balance wheels suffer from, slowing down momentum when flung around as with vigorously swinging arms. Balance wheel oscillation affects the timing of a watch which, thankfully; has been minimized to the max in the 8200.
Unyielding amidst unforgiving circumstances
One more endearing plus of the Citizen Automatic is its use of the most efficient shock protection. The Parashock system makes the balance staff – quite long and perfectly proportioned to the balance wheel – virtually indestructible on the faces of accidental dropping or similar other concussive shocks and impacts against hard surfaces. The jewel upon which the balance wheel is mounted virtually eliminates friction and contributes to the excellent performance of the entire balance wheel assembly. It is the first ever to be used in Citizen automatic movements. You can trace their lineage (e.g. 8203 or 8210) all the way back to the late '70s.
All can't be that good
Despite all that goodness, the 8200 also has its own share of – if you consider it to be- flaws, which is the stuttering seconds-hand, but beautifully covered up by counter-balancing the tail. Though a bit out of the context, Citizen employed a sandwiched third wheel into the mechanism, thus eliminating the pressure spring in the new caliber 9015.
As for the rest of the movement
It's a beautifully machined main plate (also the dial side) with lots of holes and pits drilled into it to accommodate the components.
Extra protection offered for the delicate teeth of the barrel wheel.
Walls of the cases are thick to withstand high water pressure. The openings of the case are secured with double-locking gasket system!
The current stand
There's no doubt that the caliber 8200 has hidden traits that'll make you own it; at least, long for one. It will wear its battle scars proudly and encourage you to replay those battles time to time and witness their prowess.
Click on the links below and find out buying which 8200 is going to suit you the most.