At Creation Watches we like to keep an eye on the new models that are offered by our favourite makers, and the Hamilton Khaki Field Black Dial H70455533 grabbed our attention immediately. One of the more exclusive of manufacturers, Hamilton Watches are always beautifully made and often very innovative, and this model is true to both. This is a watch that looks good from the word go, a classically styled and beautifully conceived device that combines excellent craftsmanship with modern precision engineering, and it hits the mark in every possible way.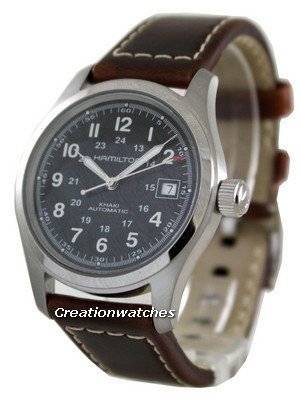 The beautiful black dial is purposeful and stylish at once, and offers neatly designed modern-look numerals for clear reading and practicality. The watch features Hamilton's tried and tested automatic self winding movement, offering unrivalled accuracy and ease of use. The classic stainless steel case is perfectly combined with a beautiful, traditional look brown leather strap, giving the watch a look that is both of the moment and utterly timeless. It's a triumph of design and function, and one that makes a superb choice for anyone who is looking for a very attractive Mens Watch.
By placing the date window at the three o'clock position Hamilton is simply enhancing the influence that classic watch design has had on this model; there is a reason that the round-face and simple steel case design endures, and it is because it works without much effort. Nevertheless, this is a graceful watch as well as a purposeful one, and it will appeal to the man who wants a watch that can be worn in the office, at a party or for general daily use, and that also has a sporty appeal to it. It is, in many ways, the perfect everyday men's watch.
Hamilton has long held a reputation for making top quality watches with fine mechanisms and added features, and the Hamilton Khaki Field Black Dial H70455533 is no exception. This well designed and easy to wear watch is both accurate and efficient, and offers great looks into the bargain. With 100 metre water resistance thrown into the mix it is easy to see why we consider this very fine man's watch a bargain at a price of less than $400, as it is difficult to match at such a fantastic price. Check out the rest of the Hamilton range for some superb watches.