An average working man's wrists, if they could speak, would scream every now and then for something less bulky and simple but trendy and elegant at the same time. Last few years have seen been bigger been equaled to better and these kinds of watches we are talking about didn't stand an exception. Extremely formal watches at large proportions are often not things you can wear with a suit, whether three-piece or business. Neither sports jackets, nor strollers – and certainly not with tuxes!
Those who are enjoying (and previously enjoyed) the trend are a vast majority are now seeking a proper a dress watch, expected to be on the smaller side and certainly not from a fashion brand! It should be from a proper watchmaker offering a good value for the money.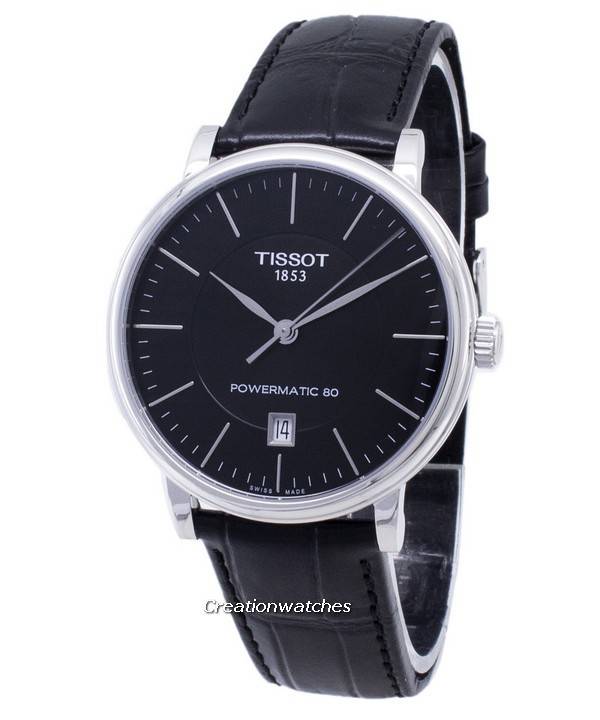 Tissot's dress collection Carson (T-Classic quartz, T-Classic Powermatic and Premium) fits this bill (or walks this line) perfectly. There are watches both for men and women, sized at 40mm and 30mm; slightly larger for traditional dress watches. One advantage that it brings is they buffer the sudden drop from a gigantic to a minuscule size. The Powermatic or the simple T-Classic; both got nice power trains. They got all sorts of wins – both in the mechanical and quartz domains; whether it's on the looks side or on the materials and technicalities.
The simple ETA-based Carson mechanical line advanced when Tissot and ETA joined efforts to build a movement with double the power reserve of other mechanical automatic movements. Keeping the price low was also one of the vital factors. They went from a humble 40 to a whopping 80, on a full wind. Hours we are talking about. Wear them for two consecutive days over a normal week; the mainspring will wind up fully. Or, just twist it full. There's a crown provided. Those who like bells and whistles in a watch, the Powermatic 80 are a good pick.
Another good thing in the Carson-s is the white dials are bone-white; not eggshell-white, like many of the giant fashion, dress watches. It's these small details like it that adds to a watch's appeal while keeping the dials extra simple.
Sapphire crystals and exhibition case-backs are standards for any luxury, dress watch and a decent water resistance keeping the watches safe from splashes, dips and showers as you know them in a regular city life.
A totally classic style depends upon how thin a watch is and Carson scores excellently also in this department. Quartz Carsons stand at slightly above 8mm while mechanicals are slightly more – 10mm. That's enough to stay out of the clunky zone. There are plenty of many less-expensive dress-watch options quartzes and automatics alike, but none like the Tissot Carson that kind of looks perfect for the next few decades to come.
Watches mentioned in this post are listed below.  Click to see details and buy them: