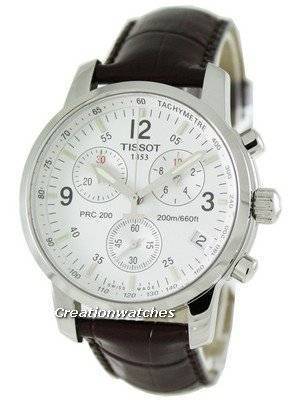 I have a fascination for chronographs. But chronograph movements – even the cheapest – don't come cheap, except for their looks. Just a couple of subdials is not all that will make me shun the overall acceptability of a watch. So, my choice of brands is limited; I would rather buy a good one that's costly rather than more numbers for that price. I have explored and picked from Citizens, Seiko-s and Hamilton-s; played round a bit with Casio-s but here's a largely overlooked domain and that's of Tissot's. The PRC 200 range from Tissot is what I'm talking about.
After browsing briefly the entire collection, it seems each these four cover a quadrant. A sporty feel with a classy demeanor, all tucked neatly in an ultra-modern durability. A thinner bezel gives it more on circumference and brings an illusion of largeness, but apart from their plain yet kinda bold look, it's a lesser price (compared to other Swiss chromos) that drew my attention. It has all that a chronograph must have, yet nothing fancy or eye-candy to it. So we call these plain bread and butter watches; there are no bells or whistles. They are just well-made, and an accessible way to take the first step towards the realm of Swiss mechanical chronographs. You need to get used to the subtlety that grabs attention; Swiss watches are all about that. The Tissot PRC are a good start. They are a working man's watch with massive looks, precise designs and an elegant finish that tells your workhorse is from a good stable. 
So, what works out on the looks department? A recap of the points:
It's elegant for a casual daily wear with a good size, a good mass and the necessary depth.
Plain, uncluttered design; more so for an internal tachymeter (on the beveled ring) that allows a larger glass to be fitted in.
To end, the PRC 200 watches probably have the best movements for this price range. It's a Tissot C01.211 movement that's partly built by ETA. Do not expect elaborate ornate decorations, but there is a Tissot-signed rotor. What's most astonishing is the weight of the materials; even the pushers rest heavy at their places. You'll feel the chronograph engaging and disengaging and that's a satisfying vibration.