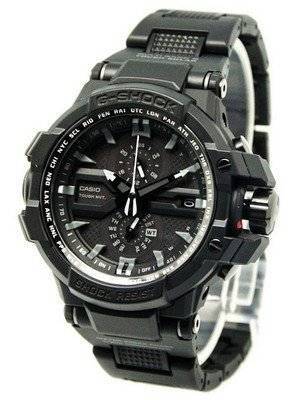 Mondays usually piss me off. It's the kinda "Oh! Not again…" feel that keeps me ill-tempered well until noon. Now, I guess most of us are like that; all those who work to earn their bread (and cheese, and butter, and eggs, and bacon and so on…). Mondays are necessary evils throwing opportunities for those bread-sidekicks.
I hear the question coming so here's the answer: "The f*** I'm doing sitting here is jotting personal brain-tides (if there are waves, there must be tides also) down." It is also of interest to me; better, an extension of a greater interest. This is my post-lunch resting half-an-hour; I can spend it anyway I like. So I'm writing on it. If it interests you, we share a common pastime and hopefully there are some common choices too. Say, the Casio Sky Cockpit Triple G Resist watch. I wasn't sure if I will ever add a Casio to my watch-drobe but this one made me to think things over.
I almost passed by thinking it to be another G-Shock in a new body. Then I read Cockpit and it started getting interesting. This one doesn't just defy gravity; it resists three times the shock of gravitational dropping forces. It applies to centrifugal G-forces too, and vibrations. It has smart access capabilities and temperature readability. But more than anything, it is radio-controlled.
That's WAVE-CEPTOR technology into play. The time-calibration signals come from six transmission stations (that's why MULTIBAND 6; they are Germany, The UK, The US, China, and two in Japan)
and the watch corrects itself according to those signals. When out of reach of signals, it becomes a normal watch.
The Fine Resin is a new watch-building material (polyamide resin; Class VI product according to U.S. Pharmacopeial Convention or USP) that encapsulates steel-embeddings. It is strong itself and highly resistant to chemicals and UV light discolorations. This combo is as strong as metal but way lighter while as bracelet, it fits better than standard resin bands. And it looks PVD steel at first glance!
There's something about its movement, too. This is TOUGH MOVEMENT; a thin, analog movement that's Casio's invention. It packs as many features and functions as one can think about and secured with the same hybrid mount-construction. It is powered with the Tough Solar technology. Standard battery won't even last a month with all those power-guzzling functions used on a daily basis.
So, I think I found a Casio to live up to my expectations. After all, it has to share rooms with my Skyhawk.