Citizen Promaster series combine revolutionary technology and high precision engineering designs to come up with a unique timepiece for sports fanciers as well as professionals. A world leader in developing timepieces for sports enthusiasts and professionals, the Promaster collection covers all sporting needs. Our proven track record for precision and reliability, no matter how unforgiving the conditions, can be found in models specifically designed for use on land, in the ocean or in the sky.
This Citizen Diver's Aqualand Chronograph BJ2110-01E watch is an analog solar powered diver's watch into which an electronic depth meter function and chronograph function are built. The solar power generation function transforms solar energy to electrical energy to run the watch Since solar energy is used as the power source of this watch, it has no need of regular replacement of the battery unlike the general diver's watches using the mercury cell, etc. (Solar power function). The built-in depth meter function automatically measures the depth in diving with the watch worn on the wrist. (Depth meter function). The maximum depth in diving is automatically memorized. (Maximum depth memorizing function) The chronograph function measures the time in units of one second for 50 minutes at maximum. This watch is a super aqualand watch. This watch has a water resistant of 200 meter and it is suitable for water sports wearing in the surf. This watch also has a low charge indicator function i.e., for solar cell watches, it indicates when cell needs charging by light. This watch displays the dates of the month. The time display of this watch can be set to show either 12 hour or 24 hour formats. There is one way bezel i.e., left handed bezel will move only counter clockwise to ensure minimum movement to your setting. The case of this watch is stainless steel. This watch has screw lock crown which screws down and locks tightly stopping the entry of moisture and dirt.
Another plus point of this Citizen Chronograph watch is that when the watch is immersed in the water, while it is set in the Time mode and the battery is charged enough for diving, the water sensor senses the water and switches the watch to Diving mode to measure the depth. In the Diving mode, the watch automatically memorizes the maximum depth of the last dive and the user can recall it after the dive. The another feature of this watch is Overzone mark feature. i.e., When the diving depth exceeds 50 m (125 ft) or there is something abnormal in the depth meter function, the function hand points to the overzone mark.
Click here for more details: Citizen Promaster Watch
Some Important Features: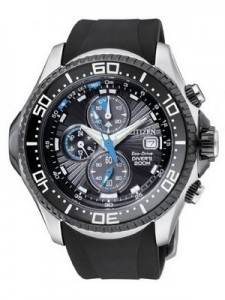 Stainless steel case
Rubber strap
Screw case back
Chronograph
Stopwatch up to 50 min
Date display
Rotating Black Bezel
Insufficient Charge Warning Function
Overcharge Prevention Function
200m Water Resistant
Big Luminous Hour Markers
Depth display to 50m
24 hour display
Maximum Depth Memory Display
Ecodrive 60 Days Running Time From Full Charge
Depthmeter is activated automatically by a Watersensor
Black dial
DLC (Diamond Like Carbon -Great hardness & excellent abrasion resistance )
Case diameter 48mm
Made in Japan
This watch is available for USD 399.00 with us.
Click here for more details and to purchase it : Citizen Eco Drive