Ever since its inception in the late 1960's, the fashion house of Calvin Klein has epitomised flair and sophistication to each successive generation of fashion followers.   Wearing a Calvin Klein coat, dress, suit or even underwear proves that the wearer is someone with a knowledge and understanding of style.  So by choosing to wear a Calvin Klein watch on your wrist you are joining the elite upper echelons of fashion society.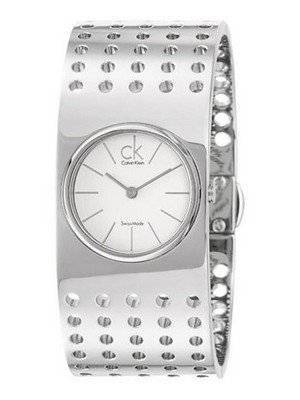 So why not choose the beautiful Calvin Klein Hypnotic women's watch to make your fashion debut?  This gorgeous model is made in Switzerland and features Swiss Quartz movement for fantastic time keeping.  The stainless steel bangle style bracelet showcases the silver dial effortlessly and will add panache to any outfit you choose.  Silver tone hands glide around the analogue display which is protected by anti-scratch sapphire crystal glass, ensuring your watch remains looking brand new even after a few bumps and scrapes.
The sleek curves of this model mean that it is unobtrusive and can be easily worn for work during the day, or at an evening function where the watch itself can become an interesting fashion accessory.  You can expand the theme with additional silver jewellery to really highlight your watch as part of your outfit.
However, if your style is more traditional, there is a Calvin Klein watch out there for you, too.  A typical model features a supple black leather strap surrounding a black dial set with four gemstone diamonds.  These highlight the quarter hours as the silver hands move smoothly around the face keeping the time correct for you.  Again, made in Switzerland and featuring Swiss Quartz movement, the ability for these watches to remain in perfect time is never in doubt.
All Calvin Klein Womens Watches bring a touch of elegance to your everyday wardrobe and as such are a fantastic gift whether received or given.  Their classic styling means there is a model which will appeal to any age group and the effortless refinement they exude means they can be paired with every item in a woman's wardrobe with ease.  There is no need to worry about the model of watch to buy as the Calvin Klein range has something for everyone.
So whether you are considering purchasing a beautiful Calvin Klein woman's watch for yourself, your mother, sister or friend, scroll through the models on offer to find the timepiece of your dreams.