This Orient Watch seems to be coming from the world of dreams. Where there are many twinkling start and moon. It is nice creation from Orient Watches. This model has a fantastic and different look from other women's watches. No need to change its battery as it has automatic movement, some people also call it as automatic winding or self winding. It is mechanically powered by the motion of the wearer's arm rather than by turning the winding stem. In response to this motion, a rotor turns and winds the watch's mainspring so that it keeps accurate time. This watch reserves the power and gives good power backup.
The case of this watch is made using the golden plated 5 Microns stainless steel. And has a comfortable Leather Strap. It has very attractive and easy to view glowing white dial where you can see the transparent moon and the stars. It has normal analog display. You can see the running mechanism from the transparent moon. The glass over the dial is actually made by a mineral glass for increasing its resistivity to scratches and to make it more durable. You will not miss the time ever with this watch, even if you are at swimming pool or beaches. And not need to take care of this watch in such places since this watch is water resistant up to 50 meters of depth. I say that the Womens Watches should always be water resistant. Because they don't need to worry when they take a face wash. This watch is the combination of watch and jewelry. Buy Watch and stay away from the hassles of changing the batteries often.
Click here for more details: Orient Watches
Some Important Features: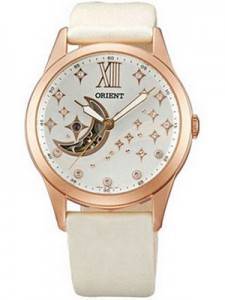 Gold Plated 5 Microns Stainless Steel Case
Leather Strap
Automatic Movement with self-winding
White Dial
Analog Display
Mineral Glass
50M Water Resistant
This watch is available for US $165.00 with us.
Click here for more details and to purchase it : Womens Watches