Lots of watch makers today indicate theirs to be Swiss movements, which is an ambiguous designation and not quite acceptable by many among us. It can mean just anything! Much like Swiss-Made from lesser known or obscure brands.
Strictly speaking, the Swiss Made designation can be bestowed upon (legally) to any watch with a certain portion of it manufactured and assembled in Switzerland. Even if there is a certain percentage of components of a watch are made in Switzerland and not necessarily put together in Switzerland, still it will be wearing the Swiss-Made mark.
It's the same with movements. Their components could be built elsewhere and assembled in Switzerland or might have some of its parts built in Switzerland and assembled with parts sourced from outside. Either way, you can't be sure. Either you go for the very, very expensive Swiss variety or you rely on ETA and Sellita and their reworked versions. Regardless of the circumstance, whenever you see Swiss Movement mentioned, it means – essentially – one thing. The movement in the watch is going to be either an ETA or a Sellita! Both ETA and Sellita are Swiss movement manufacturers and Sellita, for most of its movements, copies ETA. They got the same kind of machinery to do the job. There's no question of copyright infringement, since ETA designs are old enough to lose their Patent Rights. Just like pharmaceuticals making generic drugs after a certain period of time.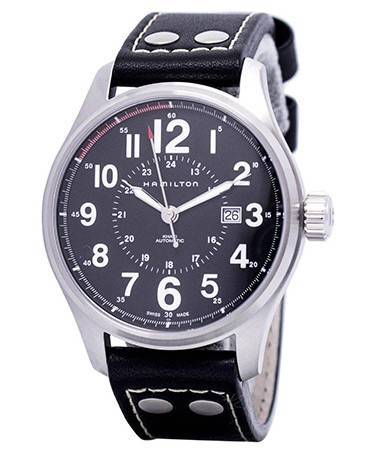 An ETA 2824-2 is considered the most ubiquitous of all ETA movements. Its specs are solid (which makes it serviceable) and you can find it in watches from large brands like Hamilton as much as in watches by micro-brands.
Now, ETA 2824 comes in four grades, which differ in accuracy. Standard grade movements vary between +12 seconds to -30 seconds a day, making it acceptable for inexpensive, daily-wear watches. The Elaborated grade is + 7 seconds a day while Top grade is +5 seconds a day. The Chronometer meets the strict standards of the COSC, which makes it ideal for watches built to address professional timing that relies heavily on accuracy.
The Sellita SW200, on the other hand, is identical in construction and function to the 2824. Differences are negligible – unless you are a watchmaker yourself – and it functions the same, with similar accuracy and the same kind of reliability.
ETA continues to sell movements but not to brands outside the SWATCH group anymore. With Sellita, that's not a problem. So, you'll find the Sellita SW200 movement in many watches (Raymond Weil is one of them; although the Caliber RW1212 is a modified version of the SW200); it is the same movement as an ETA 2824-2. Even parts from one movement fit the other!
How do you differentiate the two, then? It's simple. The Sellita has a rotor that's red towards the center.
The SW-200 has a modified version, which is the SW200-1. The modifications to the SW200-1 variation occurred for the axis of reduction wheel, the ratchet wheel and the ratchet-wheel driving wheel. The gears of the original SW200 follow normal standards (something Sellita calls slim geometry) and their tendency to get damaged easily when subjected to strong shocks got them to design a new gear to provide power transmission rate that equals the SW200 but with a stronger tooth geometry. This reduced the risk of damage and imparted the SW200-1 a far better timing than the ETA 2824-2; to be precise, it takes better regulations. It has a better hairspring technology, which built the many-microns thicker hairspring. It performs with better accuracy. It's built by an ancillary company to Sellita and not by Nivarox-Far, a separate Swiss company producing oscillating and escapement parts for watches.
Oris is a brand that uses the Sellita SW200-1, albeit not in its original, basic form. They named it Oris Caliber 733 and used it primarily for their Aquis Day Date watches. You can also find the Caliber 798 inside the Aquis as well. Other models from Oris using this same caliber are the Artelier Date, Artix Date, ProDiver Date, Divers Sixty-Five, Big Crown ProPilot and the Chronoris, some of them being great choices also for the lady in your life!
Well, that's about it. Stick to the info and your next choice (or choices) are bound to get better than before.
We've explained why the Sellita stock movements are now more abundant than the ETA. See some of the watches with these movements or with their modified versions.