Just when Gonzo was about to go another round about his much coveted Seiko 5 the other day; he suddenly jolted to the 7. Japanese watch manufacturers seem to have hots for odd numbers…. Orient uses 3, Seiko uses Five; Citizen uses Eagle Seven.
The Japanese arch-rivalry in the entry-level, mechanical watch-market is old. All bring a better-than-good value for money. A Citizen Eagle Seven is a truly desired piece in any collection. It's as desirable as the Eco-Drive.
Note: The pictures illustrate the similarities and dissimilarities between the Eagle 7, the Seiko 5 and a Citizen automatic.
The Citizen Eagle Seven cases have screw-in backs. This is a common trait with Seiko 5 they share. The Eagle 7 crowns are simple 'pull-push and adjust' types. They don't; however, come signed. The steel Jubilee bracelet is a staple with Eagle 7 watches with 'Citizen' engraved on the clasp. There's just the Miyota 8200 to be found inside the case. This line-up doesn't have multiple choices like Seiko offers; from the 6S26 to the 4R36.
The 21-jewel 8200 automatic movement dates back to 1975 and soon became Citizen's standard automatic movement. Even today they are. The Citizen 8200 can be manually wound and holds a 40-hour power reserve. The features include a quickset day-date function other than regular timekeeping.
The 8200 movement is a robust one, stable and quite. It has high accuracy compared to other entry-level automatic mechanisms. What you get for the money is the 'Citizen' version of the inarguably beautiful, Seiko 5. The Citizen Eagle 7 still stands a challenge to the Seiko 5 – for the substantial feel it brings on the wrist, for the more traditional hands that are also easier to read; also for the cleaner dials. Though the Citizen Automatic NH8360-80E Men's Watch and the Citizen Mechanical Automatic NH8366-83A Men's Watch are not, they do closely resemble the Eagle 7 format and run on the same 8200 platform.
The Eagle Seven suits as an everyday wear, as an occasional wear and even for fairly high levels of physical activity. The variety of colors is wide; so are shapes, design and sizes. The love for the Citizen Eagle 7s ran deeper in those who used it, as much as dedicating entire watch boxes to them.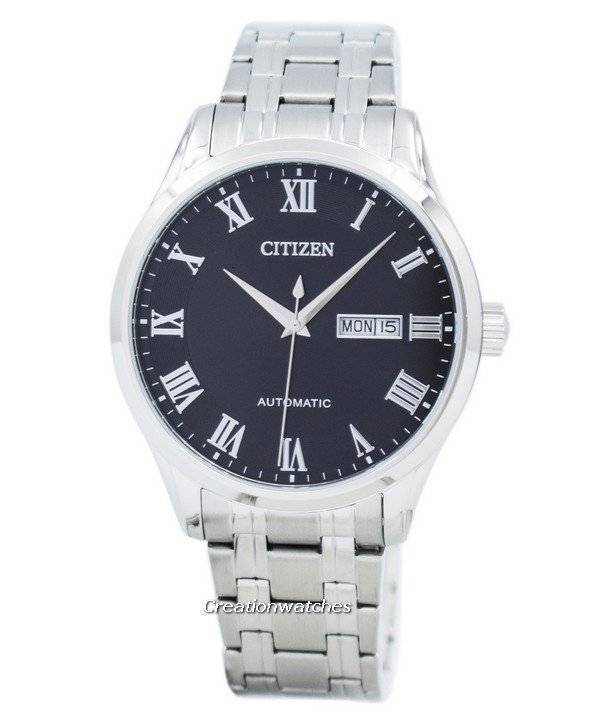 The Eagle Seven must be the lookout for collectors; doesn't matter if it's only the high-value pieces you collect, let that be within Citizen alone. The Eagle Seven are worth every penny and that raises their respective values automatically. It might not be as illustrious, exquisitely detailed or with multiple highlights like their Signature Series automatic watches; there might not be present a decorated rotor or 26 jewels, but you don't need all that when daily commuting is not in a luxury car. You don't mind bumping the Eagle 7 a bit!
Watch(es) mentioned in this post are listed below.  Click to see details and buy them:
Please follow and like us: