In the second part of the Seiko-Orient debate on divers, we are to witness a few pieces delivering plenty of fun, the bad part being they are also enough to lure you into more trouble than you can handle; which you go for out of pure curiosity to see till what length your watch can resist. No issues; just make sure you possess enough skill and equipment.
Some would say there's a fair bit of Seiko lurking under the Orient build and that might not be entirely untrue; for Orient is a Seiko subsidiary after all. It answers the very question we started with and we can be sure about both providing top quality dive watches at affordable prices subjected to specs and build, pushing the limits of the number of things they can put into their watches to make them do much more and at the same time, keep the pricings under tight control.
Long story short, let's see how some of them vie against each other. This is different from our last time.
Among the most well-known Orient divers, both Ray II and Mako II look bit Rolex-ish; now, whether that's good or bad is up to the person going for them, either or both.  They are non-Swiss i.e. inexpensive alternatives that you are never afraid to take into the deep; or, to the field or to a boy's night out. You don't have to think twice. They are almost identical in specs; the differences are actually cosmetic.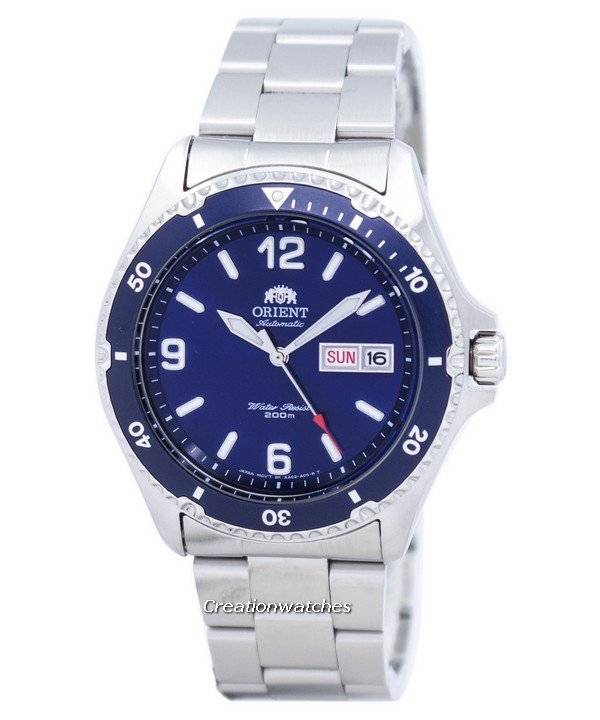 That shows in the markers. Both got has circular and tapered markers; all generously covered in lume. The fine, noticeable minute markers run around the bezels' edge, allowing for precise alignment for timing purposes.
The Mako II; however, is bit more urban-friendly in its approach due to its narrower hands although being the same in dimensions as the Ray II. Their bezels are somewhat similar; differences are very subtle only a close examination will reveal.
The numbers and markers on the bezel of the Ray II are bigger; more pronounced, including the flat-ended triangle at 12. The minute markers on both the bezels are up to 10 minutes and both are ribbed along their edges to ensure a better grip.
One of the most overlooked things among casual wearers is the band or the strap but serious wearers will be delighted to find the Ray bracelet giving off a more classic, embellished look with its 3-piece links with beveled lines on each side and the finish of the steel beyond those lines being slightly different.
The Mako also sports a 3-piece stainless steel band but it's completely flat; there are no lines or differences in the finish, which is more modernistic to look at. Or, you may take them as ornamented and minimalistic respectively, the latter with full possibility of becoming a classic some day, in its own right.
But, do they have the cult status of Seiko? This is where we actually get started upon the topic.
Orient divers are strongly value-based while Seiko offers tremendous value for money across a far broader range. Orient watches fly under the strong wings of the Seiko corporation no doubt, but they have stayed true to the mechanical side of watch making – a secret that's well worth discovering.
Orient's upsurge during the 2000s was largely due to introduction of classic shapes and mechanical calibers, with their diver watches emerging as suitable alternative to the ubiquitous Seiko divers of which, the eyes were getting a little tired of.
Whereas on the other hand, Seiko's rich history and design DNA didn't keep them confined within simple reissues but also helped them stretch their collections beyond with newer creations that allowed great modifications, something Orient falls short at.
Still, both are solid cars that offer great performances; are easy to maintain and a lot of fun to drive around; doesn't matter if it's a shrouded diver like the Prospex PADI Automatic or the simple, staple SKX for Seiko or the Mako and Ray Second editions from Orient.  They are unique by themselves; each with its own set of goodness, waiting to deliver them upon demand.
That's possibly the best reason why we should consider both as Cults!
Drop us a line if you got something to say about these two of Japan's most ingenious brands producing some of the most distinctive sports/dive watches that are considered style icons of the marine life today.