A brief intro
The SevenFriday Q-series doesn't bring any revolutionary concept into horology but are solid, excellent packages that showcase what SevenFriday does best.
The Q series followed after the M, P and V series were introduced. They Q leans heavily on the industrial concept with inspirations abound; whether it's from the 18th century locomotives or the ultra-high tech pit lanes of today! Other precision, mechanical auto/locomotive equipment also show a glimpse here and there in the designs, creating the unique atmosphere of not necessarily the Race Days but also your private moments with the machine.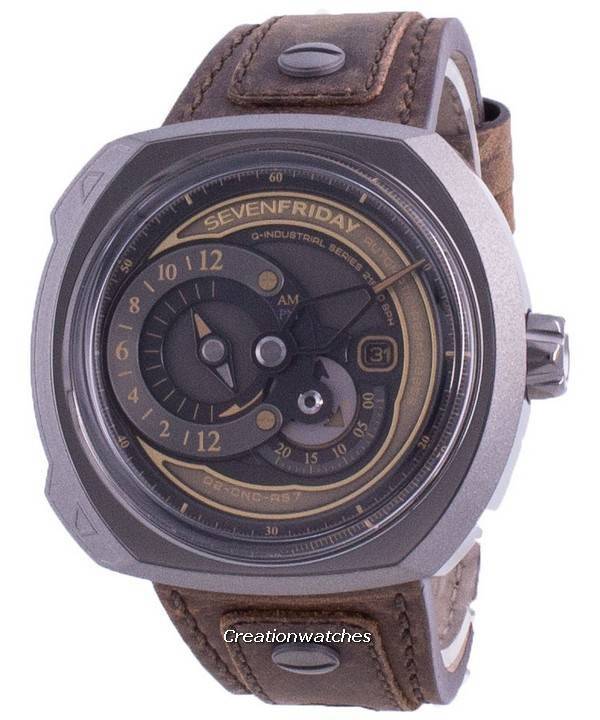 Common points shared
The similarities in construction with its earlier series are due to a few returning elements. You'll find the SevenFriday Q-Series case design and central minute hand the same as that in the 2015 V series. They utilize the design and dial layout of their predecessor without losing their own, unique visual identity. The tonneau-shaped, lug-less case features a 'Fast Strap-Changer' system that helps to give your watch a customized look whenever you seek one.
V series alike, there's a NFC chip embedded. It is for authenticating your watch through a mobile app that 7Friday offers. NFC, in industrial applications, is used as a programmable tech powering from locks to payment procedures. Here, you got to scan the chip with your mobile through the app and register it into the SevenFriday database.
Earlier…
SevenFriday designed parts for a bespoke electric guitar, which was raised for charity but those concepts were held. SevenFriday now parlays their musical thoughts through the Q. They are the affordable types among the upper-tier industrial-design, speed sports watches. They offer new thing while carrying out brand aesthetics full steam ahead!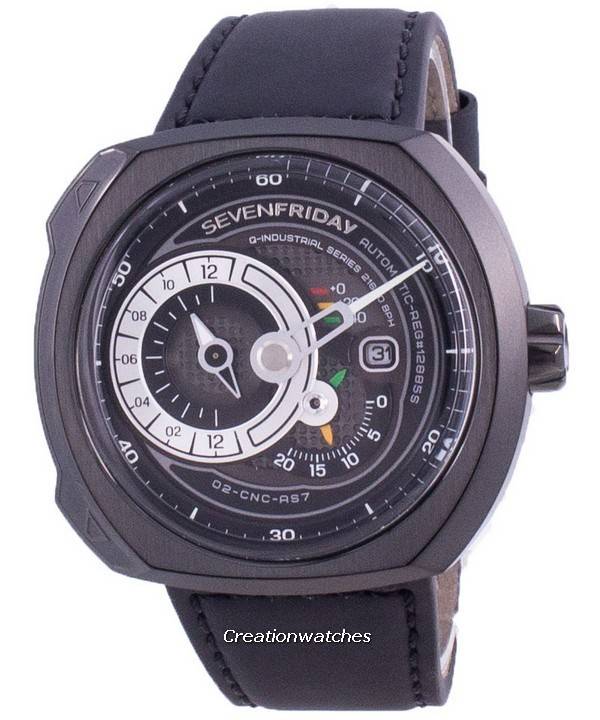 …and then
The formula SevenFriday Q-Series watches continue to run is an effectively spiced-up one in the low-to-mid range watch segments. The combination of a striking, high-end, unconventional look and a reasonable price (compared to many avant-garde luxury watches) is a strategy that proved to be irresistible among the style connoisseurs worldwide.
Here, we talk about two models: The Sevenfriday Q-Series Automatic Q2/03 and the Sevenfriday Q-Series Automatic Q3/05. The watches are different not merely in color accents but also in other small details that further emphasize their design inspirations.
We start from the last.
A glimpse at the way they look
They Q3/05 or the Engine brings together the various aspects of racing automobiles; engines that have been pushed to their limits to prove them as efficient. Equipment – modern and vintage alike – from racing, pit-lane garages (e.g. tire pressure gauge) influence it greatly.
But wait a minute! The watch is not intended to be used as seriously as you would use a hardcore tool watch. Means, don't try to knock open a jammed nut with it. Or, don't hammer anything with it. No problems though if you are wearing it while doing such jobs with appropriate (somewhat) tools.  The brand isn't trying to convey by any means that it's a serious tool watch capable of replacing hammers. It's just a very good quality watch that adds up to your attire as a positive element. It looks good and attracts a pleasant bit of attention.
We talk about the Sevenfriday Q2/03 the next day. And also about the way to read time and the other things with them!
We've mentioned here two the SevenFriday Q Series watches. Click on the links to see and buy them.