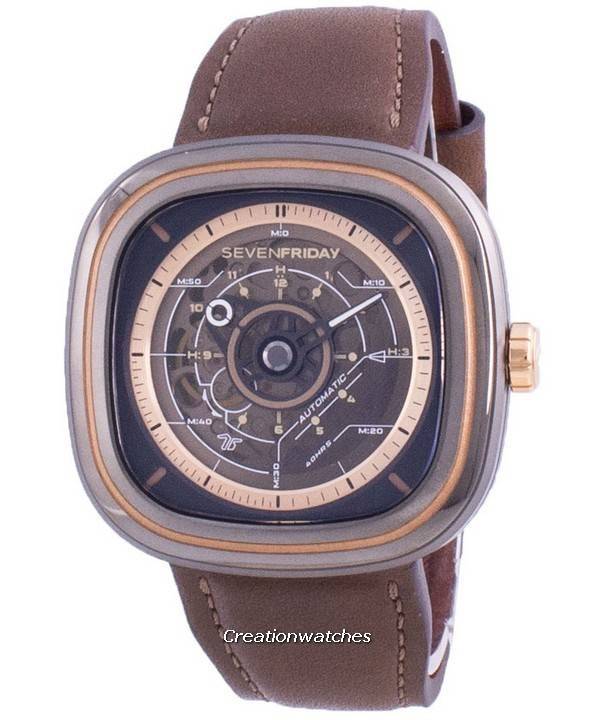 Why SevenFriday?
SevenFriday succeeded up to a great deal in removing the monotony that prevailed in the traditionalist wristwatch industry. Sure, there's no dearth for exotic watches in the world; with money, it's no big deal bringing home a Richard Mille RM 001; or a MB&F HM4 or an Uhrwerk Hammerhead. And that is what gets most of us into a fix. Until, SevenFriday moves in.
This Swiss brand threw out – somewhat – a design trend that prevailed over past quarter of a century. SevenFriday broke the mould and pushed into a territory from where they are presenting unique timekeeping experiences without taxing our wallets too much unlike other exotic Swiss brands.
Time through the T
The T-series watches display new design languages. The play is between transparency and gradients; between a skeleton movement and an effective graphic design, creating a sense of depth that draws your eyes deeper – beyond the dial surface. A spectacular interface aside, the T-Series sports smaller dimensions and thinner profiles; they are also lighter than the other SEVENFRIDAY watches.
Why 'T'?
There are inspirations aplenty in the T-series watches, coming from the technical blueprints of the industrial departments. The letter T signifies technical.
The T-Series are currently the most popular designs after the V-series watches.
 The T in a nutshell
The SEVENFRIDAY T-Series watches measure 45mm x 45.6mm, which is a whole 2mm smaller than watches from the P, M and S series and 12.95mm thick. But they pack the same punch, nevertheless. The SevenFriday logos are engraved on the side of the cases and a 7F can be found on each of the crowns.
Crafted from surgical-grade, 316L stainless steel, the sleek, black PVD coated surfaces feature a unique mixture of finishes. Each has been given polished, brushed and sandblasted execution in different measures and also grooved, lined structures filled with silver/rose-gold surface protection Berlac paint.
The T-series are fitted with the Seiko NH70 movement. They store 40 hours worth of running power when fully wound and its static and moving components and their intricate arrangement are visible through their open-worked dials.
The hardened, K1 mineral glass is a sunglass lens that has been given one layer of anti reflective coating inside, which adds to the clarity furthermore and removes glares from the Sun. The T3 has a blue gradient to the crystal, the T2 has it green.
Ensuring authenticity
Every T-Series watch comes with an NFC chip, embedded in its case back. It is to connect to the SevenFriday app for authenticating and registering the watch. Android users may download it on their phones; scan and authenticate while iPhone users can do it at scanning stations available in-store.
We've mentioned here two the SevenFriday Q Series watches. Click on the links to see and buy them.