Invicta sometimes attract snarky comments accusing them of poor overall build quality that can't keep up to the standards of a Swiss watch. Beyond that sarcasm portion is a section any watch connoisseur has happened to have visited at least once. For they deliver better than some of the mechanical – even quartz – abominations going more or less with similar price tags. With these Invicta watches, the seconds-hands don't beat wildly to any urging, daemonic stepper motor; neither do they transfix –as if with horror – at wrong places, off the marks. You may wear them for the rest of the day and not require pouring boiling phenol (or some other antiseptic) over any infection or rashes on the wrist.
Invicta watches do not necessarily have to be ginormous, offering mild concussions over the rational side of the mind. Some of them are definitely the type that you can throw at a medium-sized threat and get your job done. The attack weapon might suffer a bit but nothing more than miniature dents and/or scratches. You'll have a tale to tell.
Don't know how many of you could remember a situation like that; for we, the general population, certainly don't face the heat like them in the army. Certainly so, none would practically wear an Invicta to a warzone. For that, there are other watches, apart from the venerable G-Shock. There's the Timex Ironman and some Adidas that are very utilitarian looking. The Invicta S1 Rally watches serve well within city-life self-defense purposes.
That was a bit of a reality check. An Invicta S1 Rally is just that much bold and sporty for recreational/beginner level sports. Else, they are luxurious and affordable timepieces with incredible levels of build quality and design.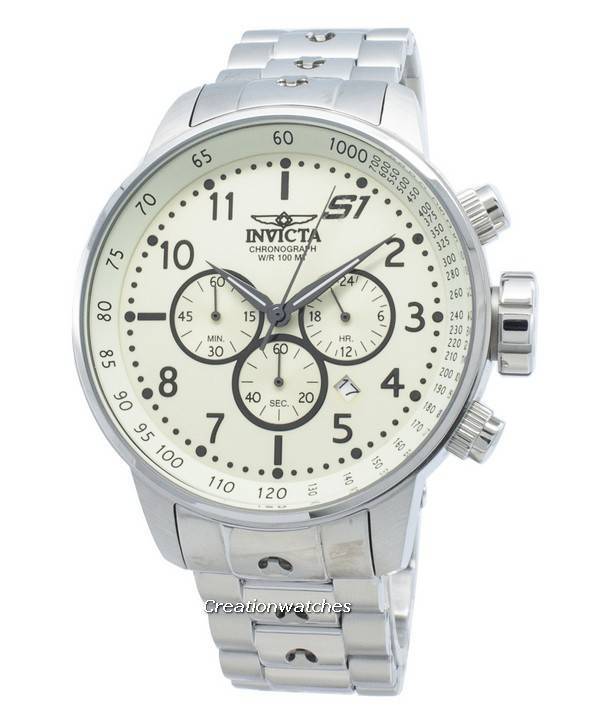 They got some very unusual three-handers, traditional chronographs with-/-out multi-functions in three-sub-dial layouts and some are plain modern and masculine. A casual and durable timepiece, every S1 Rally is great for outdoor trips and quite-a-bit rugged living. They got fair bit of inspirations from the auto-racing world, resulting in their well-constructed, durable body and components. Meant for the wild and adventurous spirit taking wings on vacations and weekends, the S1 Rally line is precisely adapted to their specific purposes.
There are five basic categories the S1 Rally models belong. Unique attributes fit the timepieces into one category or the other, depending upon functions, running mechanisms, color schemes and intricacy of texture on dials and cases.
The glasses Invicta use are their same Flame-Fusion type just like their any other watch. But it's the elaborate dials that make the Invicta Rally stand out from the crowd. The line appeals to a broad spectrum of preferences; with modernistic to classical viewpoints. And certainly, recreational or beginner-level water sports won't allow you go beyond 300 feet down below.
Watches mentioned in this post are listed below.  Click to see details and buy them: