Aviation history and watches go almost hand in hand. Brands zero-in on some particular aspects; it makes the brand special. AVI-8 does the same thing; their specialty is in keeping the aircrafts' designs intact which inspire their watches.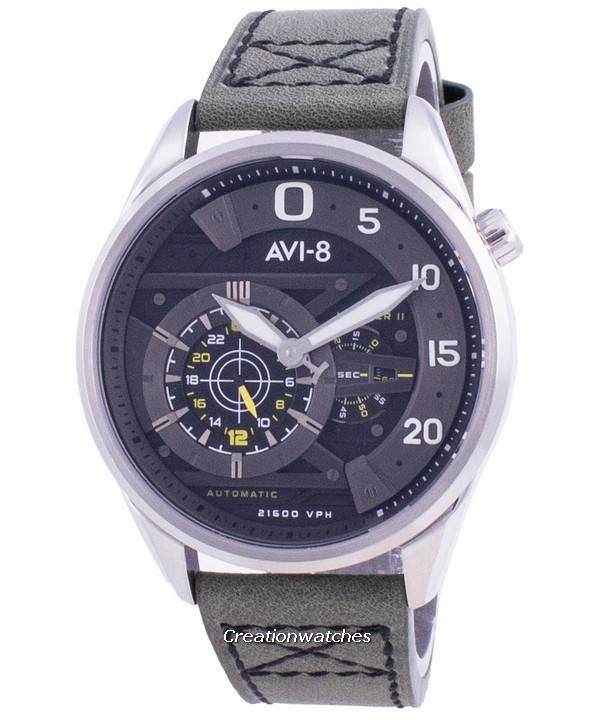 The story behind AVI-8
AVI-8 reads as avi-ate i.e. Aviate. In simple words: Fly an aircraft. That's the new way to text. It follows the ways of online chat abbreviations. It's a smart, intelligent phrasing amidst many a ludicrous alphanumeric combination. The brands focus on crafting pilot or aviation watches is clear from its name.
On the other hand, it pays tribute to aviation legends – not just aircrafts but also their pilots and the rest of their teams; who – alone or together, in some way or the other – turned flying into a sophisticated, combat art.
Brand details
UK-based AVI-8 is relatively new in the micro-brand arena, founded in the mid-2000s. It's a brand under Dartmouth Brands. Their official statement reads: "Celebrate the best of both man and machine, infusing modern and vintage elements in the watches that still offer everyday style yet rugged practicality."
There's not much history into the brand; however, its founders (watchmakers, historians and aviation enthusiasts) ensure that their products are unique and are built well. Their creations became popular in the affordable category sooner than expected. Over the years, it has gained many fans and they are not just pilots and aviation enthusiasts. AVI-8 shines on the wrist of the trendy, modern youth to the hardened adventurer alike.
Inside the AVI-8 hangar
A homage to aviation itself and with own unique identities, designs and functions, AVI-8 brings you the:
Hawker Hurricane: Gets its name from a single-seat fighter aircraft during World War II. It was one of the most successful aircrafts that delivered victory to the Allied forces. The Hawker Hurricane shall please them seeking a lot within a simple analog design.
Harrier II: Inspired by the modern aircraft that can handle advanced theatres of conflict and shortages of air bases and runways, it continues to be updated to this day. You'll find parts of the Hawker Harrier in these pieces.
Flyboy: The Eagle Squadrons of the RAF comprising volunteer pilots (before America joined in 1941) inspire the Flyboy; to be precise, their bravery. These are sleek, pilot-style watches that are similar to models that were used during the war.
Taking a break
Relish these five AVI-8 watches for now. They are just a tip of the vast range, but wait! There are three more categories we will look at next day. They will be the Hawker Hunter, the Hawker and the Lancaster Bomber. Each got its own tale to tell. Some fascinating, some incredible – but all TRUE!
Following are the links to some of the AVI-8 watches discussed above. Click to see and buy them.