There are many reasons that make a product a best seller (and perennial best sellers) but the reasons are tough to find upon immediate inspection. The Citizen Eco-Drive Chronograph FB1112-13D FB1112 Women's Watch falls into this category but it is not entirely due to its beautiful, classy or stylish appearance; the functionalities are what make it popular among a small group of women whose profession demands hair-split accuracy every time and proper devices to measure that to the finest detail.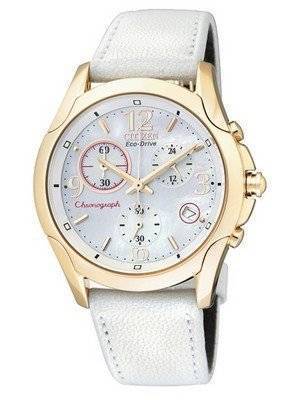 From the outside, it is just pretty rose gold plating on stainless steel and a gorgeous mother of pearl face showing sub-dials to measure 24-hours and split-seconds, but all that scientific material sits quite nicely on the delicate designs and makes it qualify for the boardroom and the corporate parties alike. It never seems to look out of place with its slim design; its curved, sapphire glass and the white, calf-skin strap, all of which make it a winner in the under $200 category and it will stay so as long as it will be in production.
Inside, it is the highly acclaimed Citizen Eco-Drive Cal. H504 movement that incorporates an overcharge protection system together with an insufficient-charge warning, so you know when to make it get some light to keep it ticking. It must not necessarily be sunlight; just any light will do but the charging time will vary depending on the intensity of the light it is exposed to.
The Citizen Eco Drive FB1112-13D chronograph is a better choice when it comes to durability and reliability under a soft demeanor, which makes it an ideal accessory to wear on just any occasion. At 32mm across the dial and 10mm case depth, grab it if you are searching for a fabulous women's watch that's versatile in its usage, tough in its construction and powerful enough to put across a statement.