At Creation Watches we take great pride in carefully selecting the brands we feature. We like to have a mix of long established makers – the likes of Tissot and Citizen, for example, who have been around for as long as wristwatches have been popular – and newer, fresher names. One of these is Nautica Watches, a brand that offers exclusive and very practical designs. That Nautica has been making watches since the early 1980's makes it far from a newcomer to the market, but it is an example of a newer name making a mark.
The range of Nautica watches that we stock is carefully chosen and offers an excellent idea of what this dedicated craftsman inspired watchmaker is about. The name gives a hint – Nautica watches are inspired by diver's watches and offer many impressive functions – and these are great watches for men that do the job at a superb price. Take the Nautica BFD 100 Multifunction N15567G: this beautifully designed watch, with its contrasting blue face and white strap, is a classic of its genre, a great design that offers 100m water resistance, date display, a unidirectional bezel and more, and at a price of just $139.00 makes a great gift.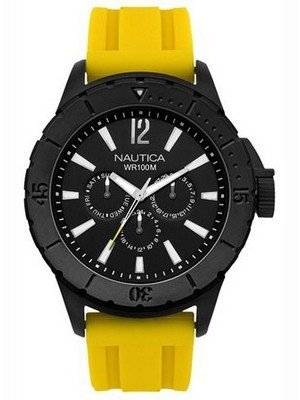 The Nautica Men's N17596G NSR 05 is an entirely different animal; a modern and stylish sporting watch that features a jazzy yellow resin strap and stainless steel case, this superbly sturdy model provides water resistance to 100m, day and date display and a very fashionable matt black face and case that combine to give it a simple yet classy air. Mineral crystal glass is a bonus in a watch designed to take knocks, and we can see this superbly made watch being a hit with men who love their sports, especially at less than $150.
A more traditional take on watch design is offered with the Nautica N19509G NST Chronograph Mens Watch, a truly beautiful watch that comes complete with all the attributes of many more expensive rivals, yet costs just $155. The stainless steel silver band is functional and stylish, and the chronograph functions will appeal to any man with a love of activity. This beautifully designed and superbly made watch is simply typical of the brand. We love Nautica watches because they offer something that little bit different, a range of men's watches that is both attractive and original, and well priced too.