Choosing a watch for a woman is about knowing what she wants; of course, you may be a girl buying for yourself, but the fact remains many Womens Watches are bought by men for their partners. What is certain is that most want a watch that is at once feminine and beautiful, and one that is akin to an item of jewellery. A watch, that is, that looks the part with any outfit, like this model, the Bulova Diamond Case Mother-Of-Pearl Dial 96R133, a very pretty model that is quite sublime in its styling.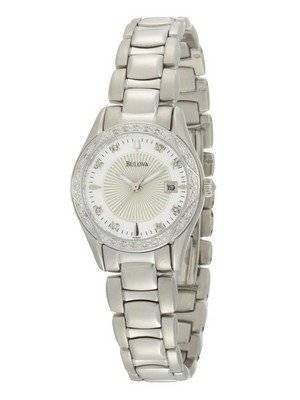 What strikes you at first about this very delicate and surprisingly ornate watch is the bezel; set with 24 glittering diamonds, it perfectly complements that subtle stainless steel case and strap, and makes for what can only be described as a beautiful finish. It is the use of diamonds that makes this Bulova so attractive, but it does not make it needlessly expensive: that it costs less that $250 is a testament to this long-standing watchmaker's commitment to quality and style at excellent prices, and to the great choices in ladies watches we make at Creation Watches.
The other feature of this pretty diamonds ladies watch that gives it that special appeal is the entrancing mother of pearl face, a great addition that really does set this model apart from other diamond encrusted ladies watches. It is at once stylish and functional – allowing for easy reading in all light – and decorative, and makes for a fine finishing touch to what is an absolutely accomplished design. With luminous hands and a date display the Bulova Diamond Case watch is a delight to wear and does both of its jobs – telling the time and looking the part – equally well.
Make no mistake, this is not just a watch for looks, it is one equipped with a quality quartz movement that guarantees precision time keeping and long life, and it is one made to a very high standard. Bulova is a brand that has been in the game a long time, and its experience shines through. There is something soothing about wearing a watch of such impressive quality, and it really does match just about any outfit. Whether you are buying this as a gift, or for yourself, you are guaranteed a top quality, precision wristwatch that is as beautiful as it gets.